Wearable options for fall '17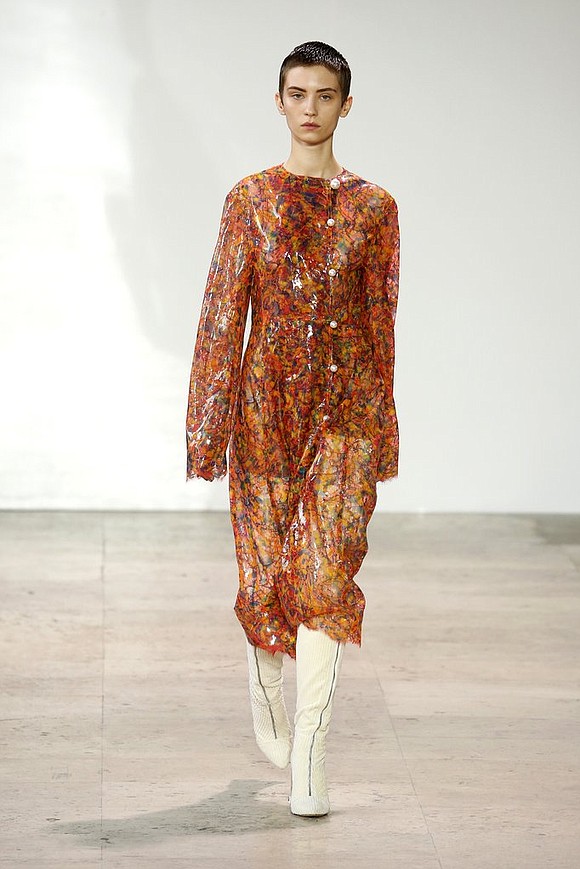 When you don't quite know what to wear from day to day because of the changing weather, you must keep a seasonal variety of clothes in your closet. At Ellery's fall '17 show for Paris Fashion Week, there was a nice array of clothes that seem to fit the changes of the seasons nicely. However, for now, keep a raincoat, heavy jacket, sweater, leggings, a silk scarf/shawl and a
pair of boots ready to go!
Known for her extravagant trousers, floating bell sleeves on blouses and street styles, Kym Ellery gained fashion design mileage with her 2016 Paris collection. Ellery's autumn clothes are for the young woman who is on a journey to discover herself and her look. In the collection, the fashion focus emphasizes the waistline. Clothes are shapely, often in fit and flare styles. Slim dresses with slip tops are worn stylishly with lace blouses. Off-the-shoulder blouses are popular with slim, tube skirts. Colorful short boots are in step with her longer length looks. Topping just about everything, a slick maroon jacket zips with a cinched waistline. Jacquard prints are in bold, soft and beautiful colors. Slouchy trousers offer menswear influences in loose-fitting silhouettes.
For her upcoming presentation at Mercedes-Benz Fashion Week Australia, starting May 17, designer Ellery teamed up with Etihad Airways to celebrate their 10-year milestone at Mercedes-Benz Australia. The event will host a celebration for Ellery, whose collections have been featured at the Australian Fashion Weeks for the past 10 years. A regular on the Paris fashion circuit, Ellery returns this season to Sydney to honor her heritage and promote Australian fashion and commerce.
Etihad Airways will celebrate their 10th year of service to Australia and showcase their support of the Australian launch of its innovative "Runway to Runway" program. Runway to Runway members are eligible to receive special airfares, airport lounge access, complimentary upgrades, priority boarding and check-in and additional checked baggage allowances as well as cargo.
As an Australian-born label that has gained substantial international momentum, Ellery has positioned Australian design at the forefront of global trends. Its designs embody the global spirit while celebrating its Australian roots.