Tulsa officer testifies after killing unarmed Black man
Holly Yan and Justin Gamble, CNN | 5/15/2017, 4:50 p.m.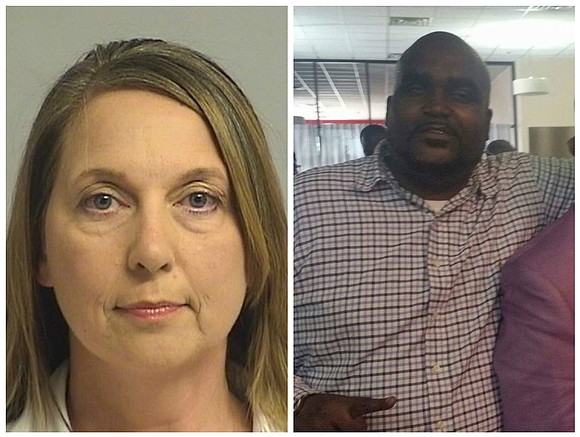 TULSA, Oklahoma (CNN) -- A white Tulsa, Oklahoma, police officer who last year shot and killed an unarmed black motorist testified Monday that she opened fire because she feared for her life when the motorist reached into his vehicle to get what could have been a gun.
Officer Betty Shelby took the witness stand in her own defense, as her felony manslaughter trial entered its second week. The decision to shoot Terence Crutcher, 40, who was acting bizarrely and failed to obey commands, stemmed from her police training, she said.
Her law enforcement training had taught "if a suspect reaches their hands inside of a car, don't let them pull them out."
"We're not trained to see what comes out of a car," Shelby told a jury in a Tulsa courtroom. "We're trained to stop a threat and by all indications, he was a threat."
Shelby gave her account of the fatal encounter, mirroring much of what she said in an April "60 Minutes" interview on CBS and previous statements by her attorney.
If convicted, Shelby could face between four years and life in prison in the death of Crutcher, a father of four girls who was unarmed.
The fatal encounter
The deadly encounter started when Crutcher's SUV broke down on September 16, 2016. Two other drivers called 911, reporting a man running away from the SUV and saying it was going to blow up.
Police helicopter footage later showed Crutcher with his hands in the air as he walked toward his broken-down SUV. As Crutcher nears the driver's side door, part of the camera's view is obscured.
By the end of the video, Crutcher is on the ground with a large bloodstain on the front of his T-shirt.
The shooting has sparked investigations by the Justice Department and state authorities.
'Show me your hands'
During her testimony, Shelby said she was driving to assist an officer with a domestic dispute when she saw Crutcher standing in the middle of the highway with his head down on his chest. He appeared dazed and confused but moved to the side of the road, she said.
She continued to the call but saw an SUV with the engine running parked in the middle of the roadway, she testified.
After calling dispatch to send another officer to that initial domestic call, she approached the vehicle, and glanced in the window but saw no one, she said.
As she turned around to walk to her patrol car, she noticed Crutcher walking towards her, she testified.
Crutcher alternated between putting his hands in his pocket and putting them in the air, she said.
She told him: "Show me your hands," she testified, adding that he didn't comply.
Crutcher was sweating heavily, and smelled of PCP chemicals as they stood looking at each other from a few feet away, she said.
Crutcher's twin sister, Tiffany shook her head in the courtroom after hearing Shelby's description of her brother.