Bedford Stuyvesant hosts Tohma Y. Faulkner street naming ceremony
EULENE INNISS | 5/18/2017, 1:49 p.m.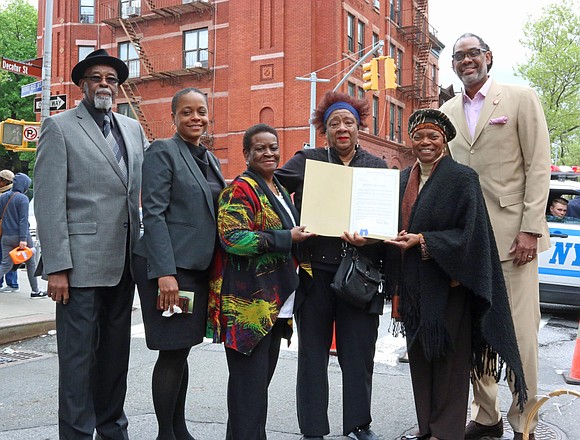 Community was the central focus of Sister Tohma Y. Faulkner's life. She loved Bed-Stuy, and Saturday, May 6, as a gentle, cool breeze was intermittently met by faint rays of the midmorning sun, the Bedford-Stuyvesant community paid the ultimate honor to their native daughter by naming Decatur Street (between Marcus Garvey Boulevard and Throop Avenue), Tohma Y. Faulkner Way.
It was a ceremony of remembrance. The villagers and village keepers were there. They shared personal stories about their encounter with this remarkable citizen. They spoke of her gentle yet ferocious spirit and her refusal to take no for an answer, as she turned every stone and broke down many doors in her quest to make things happen in her community.
Brooklyn's Borough President Eric Adams said Faulkner had "done great things of quality."
He added, "And a well-lived life deserves a good death, so we must continue to name streets for those who made our community what it is."
During early urban development, streets were named for landmarks or persons of national power. Tohma Y. Faulkner Way became a symbol of something much greater. This phenomenal woman spoke with integrity and knowledge and was in tune with the needs of her community.
New York State Sen. Velmanette Montgomery presented a New York State Resolution to commemorate the event. Faulkner was a co-founder of the Bedford-Stuyvesant Alliance, and she engaged in the drive for affordable housing and an increase in youth services. She was a member of the Vanguard Urban Improvement, the Brownstoners and Delta Sigma Theta Sorority, to name a few. She was remembered as, "a persistent, smart, dedicated worker whose quality of life enriched our community."
New York State Assembly Member Tremaine S. Wright knew Faulkner as a member of Community Board 3 and spoke of the need to "keep fighting and investing in cancer research, a disease which claims so many productive lives." She continued, "As I walk down the block, and see the name of Tohma, I will swell with pride for she was a child of Bed-Stuy."
New York City Comptroller Scott M. Stringer attended "on behalf of the people beyond Bed-Stuy, people who build communities."
"Tohma built the life of the community which resulted in this aspirational day and moment," he said.
New York City Council Member Robert E. Cornegy Jr., who represents Bed-Stuy, told the gathering that he had to answer to Faulkner as to why he wanted to lead the community and what he intended to do in the community. "She lit a torch to guarantee the community stayed in the community so that as the landscape changes the fabric wouldn't," he said. "She set the groundwork for which I hope my children will follow."
Community activist Sharonnie M. Perry referred to Faulkner as "a warrior in the community who fought for what is right and who left a legacy behind for others to follow." This sentiment was expressed by many residents, such as Bernice McCray, who "walked the pavements with Tohma to make community life better." Other speakers were former Assembly Member Annette Robinson; the Rev. E Tyrone Pittman, assistant pastor, Bethany Baptist Church where Tohma worshiped; Renee Gregory, president emeritus, Brownstoners of Bedford Stuyvesant, Inc.; Sharon Beverly Skinner, president, Brooklyn Alumnae Chapter Delta Sigma Theta Sorority, Inc.; Richard Flateau, chairperson, Community Board 3; and family members Sade Faulkner and Tohma Shaw.
Dr. Albert Vann, former New York State Assembly member, and Cornegy unveiled the street sign at Decatur Street and Marcus Garvey Boulevard. Released red and white balloons floated away in the sky far above the majestic brownstones, and the crowd applauded, spellbound by the inscription on the sign: "Tohma Y. Faulkner Way"
Vann thought it "remarkable that the community came together for a sister from the community who did her thing for us." A well-deserved tribute!