Impeach Trump now
CYRIL JOSH BARKER and Amsterdam News Staff And NAYABA ARINDE Amsterdam News Editor | 5/18/2017, midnight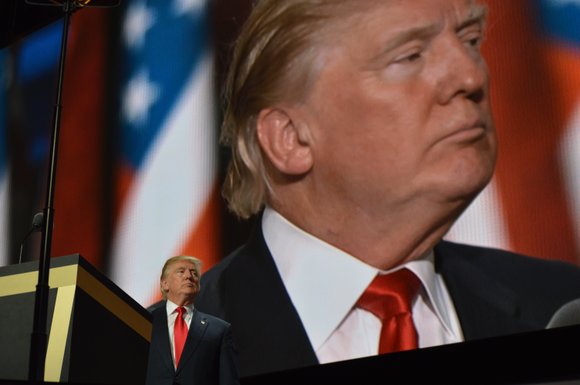 "For those who do not know, impeachment does not mean that the president would be found guilty. It simply means that the House of Representatives will bring charges against the president. It's similar to an indictment but not quite the same thing."
Texas Congressman Al Green spoke those words on the House floor Wednesday morning, kicking off what could be the journey to impeach President Donald Trump.
California Congresswoman Maxine Waters has been calling for Trump's impeachment since news broke about possible meddling in the election by Russia.
"I've been on the road of impeachment ahead of everybody," she said. "The reason I've been on the road to impeachment is I watch this president very carefully during the campaign. I saw and began to understand his character and who he was and the way the he treated people. I don't think you pivot or change all of a sudden and you become somebody else."
After less than six months in office, amid his other political conflicts, Trump has put himself in what many are considering his biggest controversy yet.
Reports indicate that Trump asked former FBI Director James Comey to drop an investigation into his former national security adviser, Michael Flynn. Critics are calling this request an obstruction of justice.
The news follows other controversial moves by the president, including the recent firing of Comey, who was also the subject of a threatening tweet by trump: "James Comey better hope that there are no 'tapes' of our conversations before he starts leaking to the press."
Comey documented several interactions between him and Trump in memos. The Senate Intelligence Committee the Senate Judiciary Committee are considering requesting copies of the memos as well as testimony from Comey.
The Judiciary Committee also wants any recordings of meetings between Trump and Comey.
"President Trump has committed an act for which he should be charged by the U.S. House of Representatives," Green said in a statement. "The act is the obstruction of a lawful investigation of the president's campaign ties to Russian influence in his 2016 presidential election. Our mantra should be I.T.N.—Impeach Trump Now."
If the complicated process is followed through, Trump would be the third president to be impeached, after Andrew John and Bill Clinton. Experts say although the process would be good news to many it could take months.
"There is no real time table," said University of North Carolina constitutional law professor Michael J. Gerhardt. "It's a premature and we have to learn more before it can be concluded what the president is doing."
 Black congressional members are calling on Republicans to snap out of it and condemn a situation that may be on the road to a constitutional crisis, barely 120 days into this new administration.
Congressional Black Caucus chairman Rep. Cedric Richmond is joining the chorus of many who say Republicans, who are still standing by the president, must confront the possibility that Trump has participated in wrongdoing.
"The out-of-the-blue ouster of FBI Director James Comey is more proof that we need an independent, bipartisan commission to investigate any and all ties between the Trump administration and Russia," he said. "I call on Republicans to put patriotism before party and join Democrats in creating an independent, bipartisan commission so we can get to the truth. If they don't, then they'll be aiding and abetting collusion and cover-up."
"The American people deserve to know if President Trump tried to quash the FBI investigation into his campaign's alleged collusion with the Russians," said Congresswoman Barbara Lee. "If true, this would constitute obstruction of justice, which is an impeachable offense. These allegations go far beyond party interests. Congress must take the long-overdue step of forming an independent, bipartisan commission to investigate this constitutional crisis. Congressional Republicans have a choice—either they fulfill their oath to defend the constitution, or they're complicit in a cover-up."
Speaking on Roland Martin's "News One Now," Congresswoman Maxine Waters said, "We see these events unfolding every day, and it's mounting up to an inevitable impeachment. This country is reeling from the daily unveiling of all of these potential scandals and investigations. Finally, we're getting some Republicans who are raising their voices. They're not going to be able to stand with him if in fact these memos have been written by Comey are revealed."
She added, "I think that those Republicans who are afraid are going to have to do something, and I think that something may be a counsel rather than a commission at this point. I suspect the next couple of weeks are going to tell us a lot about whether or not these Republicans are going to get the guts to do what they have to do and move towards tying down these investigations so that we can connect the dots in ways that are irrefutable." 
On Roland Martin's "News One Now," Congresswoman Karen Bass, who sits on the House Judiciary Committee, said, "I really do believe that if Comey has kept the detailed notes the way everybody says he has, then I wouldn't be surprised if we were looking at the beginning of the end. I also think you're beginning to see a crack with the Republicans. For example, on the government reform committee, chairman [Jason] Chaffetz has said that he is willing and ready to subpoena if necessary. This is really putting my Republican colleagues back against the wall, and they're going to have to make a decision [about] how long they're going to stand by him."
Attorney Monique Pressley told Martin, "I would agree that we're not there yet where with what people think of as an obstruction is concerned—where there has been active bribery or there has been success at preventing something from happening—but that's not the only provision. There's a provision that deals with what you would think of as undue influence by a supervisor, and what supervisor could there be bigger than the president of the United States? ... It seems pretty obvious if the words that are in the Comey letter are true, this president did attempt to use his position to influence the director of the FBI, and I think that is something that we're going to hear more and more—not just democrats, but republicans —say."
The Working Families Party added their voice to the chorus, noting in the past eight days, "On Tuesday, Trump fired FBI Director James Comey, the man leading the investigation into Trump for his campaign's ties to the Russian government. On Wednesday, he welcomed the Russian foreign minister and ambassador into the Oval Office. Russian state media were allowed in. U.S. reporters were not. On Thursday, Trump admitted to NBC that 'when I decided to [fire Comey], I said to myself – I said, you know, this Russia thing with Trump and Russia is a made-up story.' On Friday, he took to Twitter to hint that he had taped his conversations with Comey. The White House refused to deny that he had. On Sunday, Trump played golf. (It was Mother's Day.) On Monday, The Washington Post reported that Trump shared highly classified intelligence on ISIS with the Russian foreign minister in the Oval Office."
Amanda Johnson of the Working Families Party, added in a statement that Trump indeed could be charged with "an obstruction of justice," if it turned out to be true as "The New York Times reported that Trump had directly asked Comey in February to end the FBI's investigation into his former National Security Adviser Michael Flynn [who] resigned after it was revealed he lied about his own contact with the Russian ambassador."
In a time when angry white men—quite possibly who voted for Trump—took to slamming GOP politicians at town halls nationwide, the Working Families Party echoed a now much reported opinion: "We need to do everything in our power as Americans to constrain Trump, defeat his toxic agenda and hold him accountable. We demand a complete and thorough investigation, both of the crimes Trump admitted to this week and the ones we might not know about yet." Promoting a petition, as they also asked for donations for the party, the Working Families Party said, "We are calling on Congress to immediately authorize an independent commission to investigate Trump's campaign and administration, and on Senate Democrats to shut down the normal functions of government until such a commission is authorized."
The Working Families Party stated that the Trump administration is "going to try to wait out this whirlwind of crisis so they can slash taxes for billionaires and corporations, take health care away from 24 million Americans, give away billions to fossil fuel companies and destroy our climate, rip families apart by creating a deportation force, double down on failed policies of mass incarceration and more."
Congressman Gregory Meeks said Republicans have yet to agree to the American people's demands for a special prosecutor. He's asking the GOP to "put country above party."
He added, "It was troubling enough when recent reports indicated that President Trump asked for Director Comey to pledge loyalty to him above all else. It was downright alarming when President Trump fired Director Comey for continuing his investigation into possible collusion, as the president himself would later admit."
Congresswoman Yvette Clark said a special prosecutor and not someone connected to Trump or his administration should handle the investigation. "Dismissal of the FBI Director, particularly at a time when Comey was investigating suspicious contacts between the Trump campaign and agents of the Russian government, raises many issues regarding the conduct and motives behind such an act," she said. "We deserve to know the truth about these contacts and whether any illegal conduct occurred."