'Guardians 2' serves up more of the same—fun, laughs and plenty of action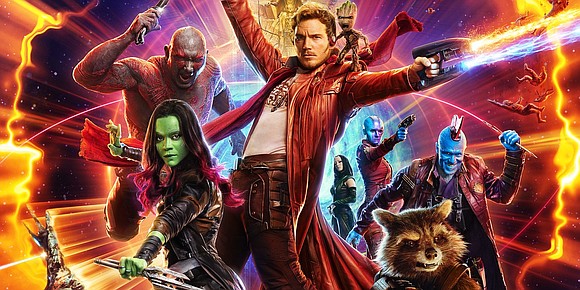 In Hollywood, big-budget, sci-fi films that have the universal "geek" stamp of approval—i.e., Marvel—don't require a strong script. In fact, one could argue that story structure could be a hindrance to reaping the heft of global box office. The first installment of "Guardians of the Galaxy," which opened three summers ago, earned a worldwide haul of $771 million, marking it the fifth biggest of any Marvel production.
In James Gunn's sequel, "Guardians of the Galaxy 2," the capable misfits are back, including Chris Pratt, Zoe Saldana and the voices of Vin Diesel and Bradley Cooper.
If you liked 2014's "Guardians of the Galaxy," you'll probably like this one because it is, with the exception of its plot, essentially the same film.
For better and for worse, "Guardians of the Galaxy 2" is average. And yet, to my great indignation, it still managed to move me to laughter and a few tears.
In this second journey the team is still battling to save a universe but with much less wit and very little element of surprise. Some of the joy is gone, an important factor and one that distinguished the original "Guardians" and made being an oddball super cool! In this version, what made them adorable in the first installment makes them almost grating and definitely less charming the second time around.
Now they are swatting and bickering like family, but it's not amusing. The jokes do not land.
For example, some of the characters who, at first introduction, were celebrated for their rough edges, have now turned toxic. Sadly, that applies to the character Gamora, the green-skinned assassin played by Zoe Saldana. In part two, her pesky sister Nebula (Karen Gillan) has returned and not only tries to do her harm but also dares to brings up their unpleasant family history. Family—urg!
Now to Rocket, the cybernetically enhanced raccoon (voiced once again by Bradley Cooper), whose ego has grown tremendously, no doubt fed richly on his ill-tempered wisecracks. He is perpetually impatient and annoys everyone and everything, including this critic! Stardom has gone to his fuzzy head!
If there is really a hero, nay an innocent, it's Baby Groot, who was made famous for his forebear sacrificing himself in the first film. In the second, the baby is a literal splinter of the original and spends most of his time in curious observation. Megastar and brilliant businessman Vin Diesel is back to provide vocals for this little critter, but you would only know that by reading the press notes. A brilliant payday again highlighting the strong business acumen of Diesel.
The two original crew members are back. Dave Bautista's Drax is given much more screen-time and uses it to burst out laughing at those jokes, previously mentioned, that fell short of the mark. Yet his character—despite the jester role—makes this journey enjoyable.
The hero journey is in full effect with Peter Quill (Chris Pratt) on the path to connect with his father (Kurt Russell) who is simply known as Ego—Ego the Living Planet—an ambiguous figure created by Stan Lee and Jack Kirby long ago. To the film's credit, the scenes between father and son (Russell and Pratt) are the best in the uneven film.
There is a new character, a youngster raised by Ego, an innocent named Mantis (Pom Klementieff), who has thick black eyelashes and two antenna protruding from her forehead. She's confused by the presence of the guardians and reacts accordingly, delivering the much missed and needed humor.
Gloom and doom is emanating from Nebula and a new and mysterious stranger, Stakar Ogord, arrives, weapon in hand, all action and few words. Sylvester Stallone voices the character, so one can presume the character has an important part in Volume 3. The bad guys, the hooligan biker types, are not effective, forcing blue-skinned Yondu (Michael Rooker) to switch sides.
The action is plentiful, so it's perfect for the popcorn-snacking film lover. The special effects are not that special, but they hold up. The violence is plentiful as well, but it's not jarring or unexpectedly disturbing.
I will end with this confession, again, for better and for worse, "Guardians of the Galaxy 2," to my great indignation, still managed to move me to laughter and a few tears.