Harlem patients share stories with future doctors
5/19/2017, 3:32 p.m.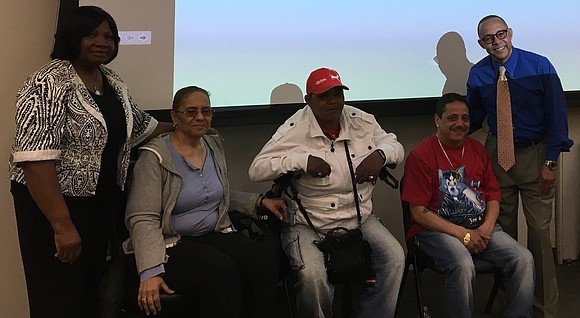 Patients who have struggled in the past with medical and mental health challenges and who live in the Harlem community recently came to Touro to speak with medical and pharmacy students about their experiences being treated in nursing homes, prisons and other facilities. The interactive exchange was part of an annual course event organized by Dr. Jeffrey Gardere, an assistant professor at Touro College of Osteopathic Medicine in cooperation with Touro College of Pharmacy. The event was aimed at helping Touro's future physicians and pharmacists become empathetic, respectful practitioners who put patient needs first.
"Make sure you check the meds and know what [condition] the patient has," said Biener Liranzo, seated far left, who lived seven years in a nursing home. "It's about saving someone's life," said David Gonzalez, seated far right, who was incarcerated in jails and prisons for more than 30 years but has successfully rehabilitated himself. "The medical units in jails are often substandard," said Gonzales. The students listened attentively.
"They said that ultimately they know the most about themselves, which is true," observed second year pharmacy student Sheba Ajmal. Fellow pharmacy student Adriana Burbridge added, "People have preconceived notions. 'You're a prisoner so you did something horrible.' You have to treat them as another human being, equal to you, not less than you."
Flanking the guests on far left and right are co-course directors and professors Dr. Joyce Addo-Atuah of Touro College of Pharmacy and Gardere.