Liberty win home opener, but Laimbeer displeased
Lois Elfman | 5/19/2017, 3:47 p.m.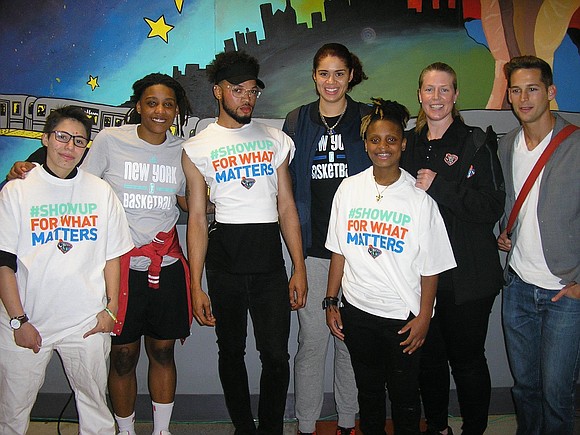 "We can't play like that and expect to compete for a championship," said New York Liberty coach Bill Laimbeer after the team's opening game of the 2017 WNBA season. Although the Liberty was victorious 73-64 over the San Antonio Stars, the coach felt the effort was disappointing on every level.
The Liberty roster is deep with talent, and Laimbeer said he plans to use the bench a lot this season. That made him even more disappointed by today's performance, where he expected the bench players to build on a substantial lead, only to have to return Tina Charles to action to secure the win.
"I hope this is the worst game we play all year long; it was awful," said Laimbeer. "They have to execute every minute they're on the floor, do their assignments, do what they're trained to do and do it on time and collectively as a group."
He said he told the players precisely that after the game. The fact that three key players—Kiah Stokes, Shavonte Zellous and Epiphanny Price—only arrived in New York in the final days of training camp was not an excuse.
"We have to learn what it really takes; we don't have it yet," he added. "Whether our actions will come around for us to be a consistent elite team, that's what we're going to find out."
Laimbeer was pleased with post player Kia Vaughn, a Bronx native and Rutgers graduate who returns to the Liberty after four seasons with the Washington Mystics. He also said Cierra Burdick made a promising debut and rookie forward Nayo Raincock-Ekunwe was nervous but showed potential.
"There is no place like home; it's a slogan I'm using for the rest of my life," said Vaughn, who previously played with the Liberty from 2009 to 2012. "I'm at a point in my life where I appreciate it a whole lot more. I get what certain things mean to me."
"When I get on the court, I want to go hard and outwork whoever I'm guarding," said Raincock-Ekunwe.
The game marked the head coaching debut of former Liberty star Vickie Johnson. Her team was without two of its key players, Moriah Jefferson and top draft pick Kelsey Plum, because of injuries. Longtime Liberty fans showed their appreciation for Johnson, who played in New York from 1997 to 2005.