Matthew Whitaker, Four Miles, Abbey Tribute, SA Freedom Day
5/19/2017, 2:41 p.m.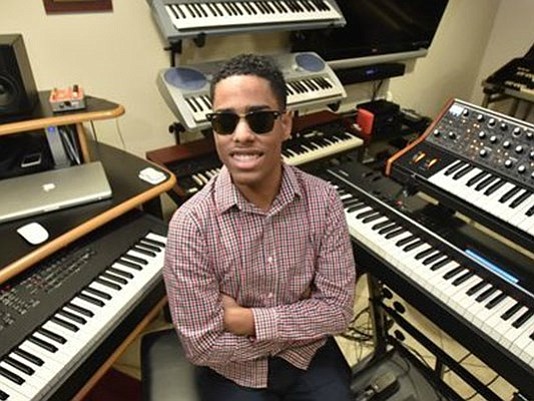 Matthew Whitaker, the 16-year-old pianist/organist and composer, can easily captivate his audience within minutes. He is that good. I met the child prodigy about six years ago when he was perfecting his craft and had an interest in video games.
May 19 (7 p.m.-10 p.m.), Whitaker will demonstrate the results of those long hours of practice and perseverance as he celebrates his debut recording "Outta the Box" (Passion Music Group) performing live at The Great Hall, 15 Washington St., Newark, N.J.
The multi-instrumentalist has put together a competent ensemble that includes guitarist Matt Oestreicher, alto saxophonist Julius Tolentino, tenor saxophonist Mike Lee, trumpeter Nathan Eklund, trombonist Peter Lin, bassist Ian Kenselaar and drummer Otis Brown III.
"Outta the Box" features six original compositions out of 10 tracks that spotlight Whitaker's composing and arranging skills on tunes such as "Matt's Blues" and "Neighborhood Park." For his favorite jazz influences, Dr. Lonnie Smith and Rhonda Scott he, offered his own arrangements of their songs "Back Track" and "Pistachio."
For the recording of "Outta The Box," Whitaker was flanked by an outstanding cast that included the bassist, arranger and composer Christian McBride, the guitarist Dave Stryker, the eclectic drummer Will Calhoun, the percussionist Sammy Figueroa and the CD's producer Ray Chew.
The concert is free and open to the public. You must RSVP for admission at Eventbrite.com/matthew-whitaker-isouttathe box.
The Miles Davis legacy remains just as potent as a Jack Johnson knockout and inspiring as his influential recording "Kind of Blue" in 1959.
The four talented musicians who keep the Miles Davis legacy moving straight-ahead are the members of Four Generations of Miles, which features the drummer Jimmy Cobb, guitarist Mike Stern, alto saxophonist Sonny Fortune and bassist Buster Williams.
May 23 to May 27 at Birdland (315 W. 44th St.), these four musicians will revisit some of their musical explorations taken with Davis.
Davis was the architect of the jazz evolution. His ensembles were deemed the best in jazz history. As a trumpeter, composer and bandleader, his recordings became the standard for cool, post-bop and fusion as evidenced by these four generations of artists who played under his helm.
Cobb appeared on "Kind of Blue" (1959), and Stern ("We Want Miles"; 1981), Williams ("Directions"; 1960-1970) and Fortune ("Big Fun"; 1974) have the post-bop and fusion bases well covered.
"Five or six years ago Buster and I took Ron Carter and George Coleman's place," said Fortune. "We are playing the music that Cobb was associated with and the concept that we were associated with fusion. For me Elvin Jones and Cobb were my biggest influences. They were magical. Cobb still sounds the way he did in the 50s. Buster and Jimmy make the music crystal clear."
For reservations visit the website www.birdlandjazz.com.
In 1957, three iconic jazz singers (Ella Fitzgerald, Billie Holiday and Carmen McRae) performed consecutive nights at the Newport Jazz Festival (in Rhode Island). Most recently, the Apollo Theater presented its own exceptional Women of the World Festival.
The final night featured three of this generation's prominent jazz vocalists: Dianne Reeves, Dee Dee Bridgewater and the bassist, composer Esperanza Spalding with the drummer Teri Lyne Carrington as the music director in a spirited tribute to Abbey Lincoln, the late (Aug. 6, 1930-Aug. 14, 2010) vocalist, songwriter, actress, civil rights advocate and activist.