Retirement of Jeter's number brings back many memories
VINCENT DAVIS | 5/19/2017, 3:42 p.m.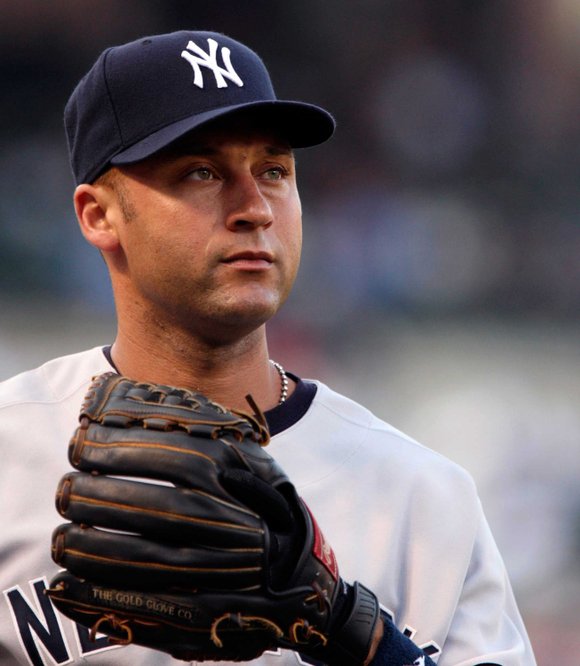 With all of the celebration, the pomp and the circumstance, the remembrances and wonderfully kind words this past weekend for retired New York Yankees shortstop Derek Jeter, whose number is also now retired, I can't help but be reminded of Jeter's appearance with Bernie Williams on one of the hilarious episodes of "Seinfeld," a television show now in reruns. George Costanza, an un-athletic, main character of the series, works for the Yankees as an assistant to the traveling secretary. Somehow, he's on the field giving the two future superstars, a very young Jeter and Williams, batting tips.
I'm reminded again of the 2001 World Series. The Yankees versus the Arizona Diamondbacks several weeks after 9-11. It's Game 7. The series is tied 3-3, ninth inning, bases loaded, two outs. Reliever Mariano Rivera's 0-1 pitch to Luis Gonzalez is hit slightly over the head of the shortstop, just out of Jeter's reach to win the game for Arizona, thwarting the Yanks' attempt to win their fourth World Series in a row, 1998, 1999, 2000, but not 2001. I remember Jeter's unsuccessful leap and his descent without the ball.
When Alex Rodriquez, also a shortstop, who some considered to be better than Jeter, was signed by the Yankees in 2004, the thought never crossed Jeter's mind to switch positions to accommodate him. Whether it did or not, he didn't.
Then, there's the offseason contract negotiations in December 2010, closing out the year. Jeter's 10-year, $189 million contract was up a year after the Yanks had won their 27th World Series. In the court of public opinion, the Yankees were playing hard ball. Jeter's numbers had slightly declined. They took this opportunity to low-ball the Captain in their negotiations. It's even alleged that the Yankees were releasing negative information about the negotiations, putting a spin on things to make themselves look like good guys to the fans, but at Jeter's expense. Both parties finally came to an agreement, $51 million for Jeter's last three years. 
Seven months later, the afternoon of Saturday, July 9, there was another sellout at Yankee Stadium, this time to hopefully witness Jeter's 3000th hit, his greatness. Yankee fans saw 2999, 3000, 3001 and 3002—four Jeter hits that day.
Hit 3000 was a home run in the third inning at the new stadium. It was off the eighth pitch thrown by Tampa Bay Rays pitcher Frank Price. Jeter is the first Yankee to have that many hits. I had tickets for the day before, Friday, which was rained out, and Sunday. Instead of a doubleheader being scheduled for the next day, Saturday, the game was played later in the year. I just remember missing that Friday game.
Jeter, expected to be a first ballot Hall of Famer, was appointed team captain by Yankees' owner George Steinbrenner in 2003, holding that position until his retirement in 2014. He had his number retired and a plaque dedicated to him in Monument Park, an outfield area of the stadium that features the plaques and retired numbers of all of the Yankee greats.
Jeter had many great moments during his 20-year career, all with the Yankees. His dive into the stands in July 2004, scarring his face, was another defining moment in his commitment to winning. His "flip play" in the playoffs against the Oakland Athletics in 2001 to save a run was iconic. His game-winning walk-off single during his last at bat in Yankee Stadium in September 2014 was a reminder of just how clutch Jeter was.