Talking SCHOP! Uptown crawlin'
Kysha Harris, Food Editor | @SCHOPgirl | 5/19/2017, 12:31 p.m.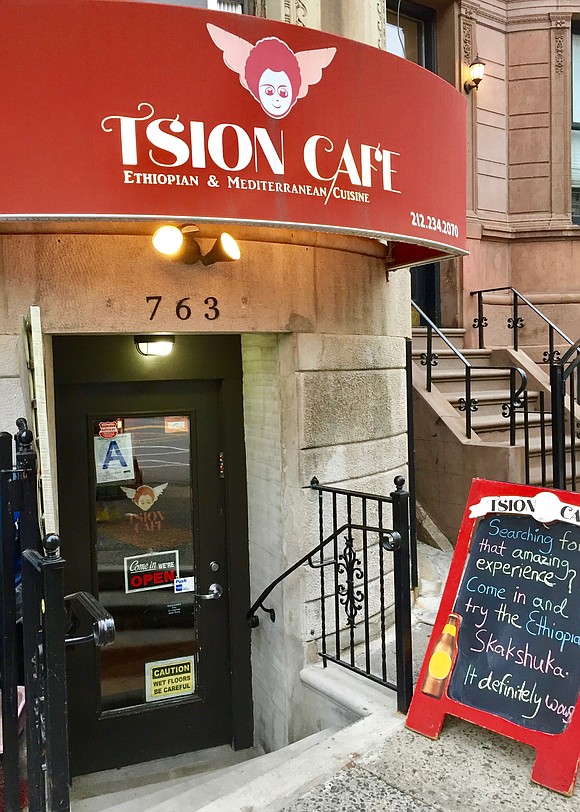 No, nothing salacious to read here. Just some media folks checking out the upper Harlem restaurants participating in the Ultimate Grand Tasting of the third annual Harlem EatUp! festival, culminating in live jazz and even more food at Ginny's Supper Club. That is all…
Our home-grown public relations talent, Valerie Wilson, invited me and some food bloggers for a night out in upper Harlem, crawling between three restaurants appearing in the Harlem EatUp! festival. As the night progressed, we became more amped (read: drunk) for this weekend's activities.
Our first stop was the first Citi Market Challenge winner, Tsion Café (@CafeTsion, 763 St. Nicholas Ave., 212-234-2070, www.tsioncafe.com). Owner Beejhy Barhany greeted us with her winning dish, doro tibs tacos, honey wine and her killer honey butter coconut bread for dessert.
As the winner of the contest, Tsion Café will be in both the Marketplace and the Ultimate Grand Tasting the entire weekend. You have no excuse not to come out and taste this dish.
The crawl crew began our migration downtown to our next stop, Oso Harlem (1618 Amsterdam Ave., 646-858-3139, www.osoharlem.com), for Mexican street food. Owner Mathew Trebek has created a gorgeous, rich and rustic space with outstanding food to boot.
Trebek welcomed us to a communal table and started us off with signature cucumber margaritas with chili salt. We were off! He hit us with the most delicious elote (Mexican street corn) I have ever eaten. Sweet grilled corn meets the right amount of toppings. Then blue corn quesadillas and shrimp tostadas. Those tostadas were packed with ingredients and the perfect combination of sweet-savory-crunchy business. Oso will be in Saturday's Ultimate Grand Tasting.
Next stop moved us over the edge to The Edge (@TheEdgeHarlem, 101 Edgecombe Ave., 212-939-9688, www.edgecafeharlem.com). There, we nestled into a farmhouse table in the corner adorned with a motley crew of antique plates. Owner Juliet Masters greeted us and told us about her and her sister's, Justine, creation of their Jamaica meets England in New York eatery.
One of my favorite dishes The Edge presented us was their light and generous fish and chips. I will be doing a rinse-and-repeat on that for a minute. The Edge will be participating in Sunday's Ultimate Grand Tasting serving their cod fritters. Yes, please!
I am looking forward to the crawl crew reunion at the festival. See you there!
Don't forget to get your Harlem EatUp! Sunday Harlem Stroll Ultimate Grand Tasting tickets using the 15 percent discount code HEU17AMN at checkout, www.harlemeatup.com.
Happy eating and thanks for reading!
Kysha Harris is a food writer and editor, culinary producer, consultant and owner of SCHOP!, a personalized food service in NYC for more than 15 years. Follow her on Twitter and Instagram, @SCHOPgirl, on Facebook, /SCHOPnyc, and her blog, www.talkingSCHOP.wordpress.com. Questions? Comments? Requests? Feedback? Invitations! Email AmNewsFOOD at AmNewsFOOD@SCHOPnyc.com. Follow us on Instagram, Twitter and Facebook @NYAmNewsFOOD and tag us with #SoAmNewsFOOD
with your food finds!