Flint residents still suffering, forgotten, abandoned
D. Kevin McNeir (The Washington Informer/NNPA Member) | 5/24/2017, 3:43 p.m.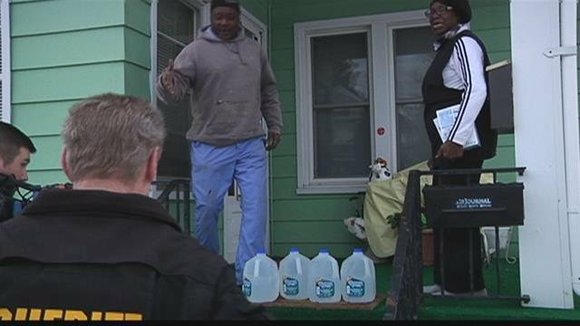 Residents of Flint, Michigan have very little to celebrate, three years after the water crisis in the city made national headlines.
On April 25, as citizens of the blue-collar city, located about one hour from Detroit, marked the third anniversary of the announcement that over 100,000 men, women and children had potentially been exposed to high levels of lead in the drinking water, the suffering continues.
The health crisis arose shortly after officials decided to switch drinking water sources to the Flint River. Before long, thousands began to suffer from illnesses linked to the contaminated water, including an estimated 12,000 children who have been exposed to dangerously-high levels of lead. And while an estimated 15,000 children in the city will soon receive extra money for nutritional foods that can limit the effects of the lead exposure, that assistance will not be extended to families who left the city—even though their children may suffer from health problems related to the lead-contaminated water.
That decision, made by the Michigan Department of Health and Human Services, has not been well received. For now, qualifying families will receive a one-time payment of $420 for each eligible child —funds that come from $7 million in additional food assistance from the Temporary Assistance for Needy Families block grant.
But for those like one former Flint resident and mother who moved barely a stone's throw away for the sake of her young child's health, the dollars won't be made available.
"If I had moved to another state, I could understand being treated differently. But moving just 15 minutes away, I feel like it's unfair," said Ariana Hawk in an interview with the Detroit Free Press.
Meanwhile, a fundraising campaign has been launched by California-based Green for All—a climate and economic justice organization that focuses on poverty and pollution to create an inclusive green economy strong enough to lift people out of poverty.
Vien Truong, the director of Green for All said that the #FixThePipes campaign has raised $10,000 to fix Flint homes. With several celebrities signing on and asking their followers to give their support, including Van Jones, Common, Russell Simmons and most recently hip-hop artist Big Sean, she expects to see the level of donations increase.
"Every dollar we collect brings Flint families one step closer to clean bathing and drinking water," said Truong, who estimates that the bill for removing lead-contaminated pipes is $10,000 per home. "Many don't know that over 8,000 city residents now have tax liens [on their homes] for refusing to pay for poisonous water," Truong said. "It's outrageous that three years later, families living in Flint still don't have clean drinking water. Lead has poisoned over 300,000 people. Meanwhile, companies have left, restaurants have closed, property values have declined and investors have gone elsewhere. We have to make people remember and help."
Truong continued: "With President Trump promising to cut the EPA budget by one-third, Americans need to understand that what's happened here in Flint will one day become the norm. One can intellectualize this all they want but studies show the disproportionate number of landfills, toxic facilities and dumps are more often located near the dwellings of low-income families or near places where people of color reside. No one speaks for them. Race remains a prevalent factor."