DanceAfrica to celebrate 40th anniversary, Chuck Davis' life and legacy
Zita Allen | 5/25/2017, midnight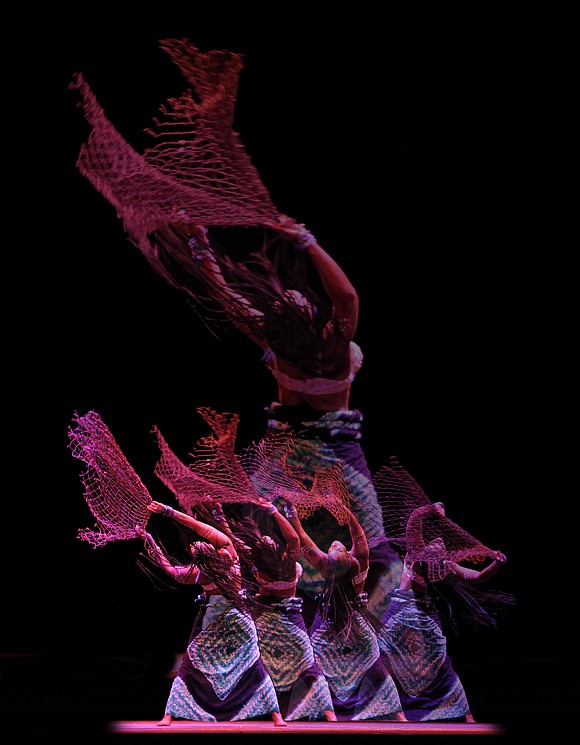 The deep, resonant sound of African drums and the rhythmic pounding of some 50 dancers' feet make the floor and walls of the Brooklyn Academy of Music fourth floor rehearsal studio reverberate. Abdel Salaam stands in front of the room, back to a mirrored wall and the tech staff seated at a long wooden table. The choreographer and dancer hand-picked by DanceAfrica founder and longtime director Baba Chuck Davis to succeed him is fiercely focused. Salaam is watching as the dancers, limbs slicing the air dreadlocks flying, swoop, swirl and leap through the opening number propelled by the music and Salaam's occasional soft-spoken instructions.
During a brief rehearsal break Salaam spoke candidly about DanceAfrica and Baba Chuck. He recalled his own four-decade history with the iconic cultural festival, a history that dates back to his days as a member of the Chuck Davis Dance Company. He talked about this year's celebration of DanceAfrica's 40th Anniversary, his trip to North Carolina to spend precious time with Davis and the challenge of nurturing this unique cultural legacy while continuing push it forward.
Salaam described rushing to Davis' bedside after getting a call from Normadien Gibson Woolbright, a key member of Davis' dance family along with husband, N'goma, longtime company member and assistant director of the African-American Dance Ensemble. She told him to come immediately to spend precious moments with Davis. Once there, he found Davis surrounded by a lovingly devoted dance family.
Salaam recalled, "Before I left, I told him, 'Papa,'—most people called him Baba; I called him Papa because he was my dance father—I said, 'Papa, New York loves you. Brooklyn loves you. BAM loves you. I love you. Don't worry. It's OK. We got this!'" Salaam added, "Almost immediately after the plane landed, Norma called and told me, 'He's gone.'" Noting that hearing the news was difficult, it reinforced his determination that this DanceAfrica season reflect Davis' amazing cultural legacy and continue to evolve as he wanted.
"After I was vetted and appointed," Salaam said, "Chuck said, 'I've been watching you your entire life. I do not want you coming here trying to be me. You have to be yourself.'" This year's 40th anniversary celebration is designed to honor Davis.
When the curtain rises in BAM's Howard Gilman Opera House May 26 for this country's largest showcase of African dance, dancers, drummers and musicians, some past favorites and some new to the festival take the stage in a special program with the theme "The Healing Light of Rhythm: Tradition and Beyond."
"I've taken Africa, neo-African fusion, contemporary modern and hip-hop and blended it to tell a story and make a statement about gun violence and our young people killing each other," Salaam said.
Asase Yaa, Illstyle & Peace Productions will join his own Forces of Nature, including founding member Dyane Harvey, in the first half of the program for a diverse style mashup. Salaam added, "Illsyle does B-boy work. I said I was going to bring hip-hop to DanceAfrica. Asase Yaa are brilliant musicians and young dancers. They're Nana Dinizulu's kids."
The second half of the program features the 17 master drummers, dancers and instrumentalists from Guinea called Wula Dance and Drum Ensemble, led by M'Bemba Bangoura. All will be joined onstage by the vivacious BAM/Restoration Dance Youth Ensemble, which celebrates its own 20th anniversary.
This dance concert completes ceremonies that included a May 20 Tribute to the Ancestors at Brooklyn's Weeksville Heritage Center and DanceAfrica Community Day at Restoration Plaza. And, what would the Memorial Day weekend celebration be without the popular DanceAfrica outdoor Bazaar, which hosts some 150 vendors selling crafts, food and fashion; dance workshops; and FilmAfrica, a BAMcinematek film series at BAM Rose Cinemas?
May 28, at 7:30 p.m., a memorial service for Davis on the Howard Gilman Opera House stage celebrates his larger-than-life spirit and legacy as members of the DanceAfrica family, past and present, come together to honor a man whose vision has had such a tremendous impact on dance.