Daniel A.P. Murray, an eminent librarian and bibliophile
Herb Boyd | 5/25/2017, 12:37 p.m.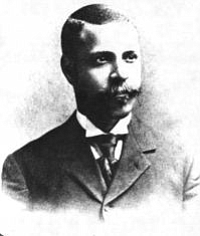 Not until Elizabeth Dowling Taylor published her book, "The Original Black Elite: Daniel Murray and the Story of a Forgotten Era" (Amistad Press, 2017) was I aware of Murray and his role in the Black elite of Washington, D.C. as well as his creative promotion of African-American literature and culture.
According to Taylor's peerless research, Murray was an exemplary member of the wealthy Black elite in the nation's capital after the Civil War. He was born on March 3, 1852, in Baltimore, Md. But by the time he was 9 he was living in Washington, D.C. with his brother, who managed the U.S. Senate restaurant.
At 19, he was employed as a personal assistant to Ainsworth R. Spofford, the librarian of Congress. Spofford took Murray under his wing and mentored him on research skills and introduced him to the importance of gaining fluency in several languages. In 1879, Murray married Anna Evans, a graduate of Oberlin College, whose uncle (Lewis Sheridan Leary) and cousin (John Copeland) were two of the five Black men who joined John Brown during the raid on Harpers Ferry in 1859.
Two years later, Murray was promoted to assistant librarian of Congress, a position he would hold until his retirement in 1923.
One of the first major projects as librarian and curator was a special display on "Negro Literature" as part of the American exhibit at the Paris Exposition in 1900. "For this exhibit, and for future preservation at the Library of Congress," according to the BlackPast.org, "Murray searched for the title of every book or pamphlet known to be written by a person of African ancestry. After securing a list of 270 titles, Murray appealed to others for help in the search.  The response yielded 1,100 titles, 500 of which became the Negro Literature display at the Paris Exposition. 
It should be noted that Murray was very ecumenical in his selection of the titles and photographs, with entries from Booker T. Washington and W.E.B. Du Bois, and when Du Bois was completing his study of John Brown, he called upon Murray's brother, Freeman, for additional information about the great abolitionist.
A year before the Paris Exposition, Murray was one of the chief coordinators of the semiannual meeting of the National Afro-American Council/American Negro Academy in Washington, D.C. As chairman of the arrangements, Murray was indefatigable, making sure that good impression was left on all the attendees. "He raised Washington's stock several points higher in the society market," Taylor wrote in her biography of Murray.
Murray continued his pursuit of the works of Black authors long after the end of the Paris Exposition. By 1907 he had accumulated a list of more than 12,000 books and pamphlets by Black authors.  He had also collected a personal library of 1,488 volumes, which he eventually donated to the Library of Congress to become the Colored Author Collection.
Having ventured down this literary path, Murray was soon an inveterate collector of books, which inspired him to begin looking into the lives of the authors. From this endeavor came "Bibliographic-Africana," a proposed compendium that would include all known literature by writers of African ancestry. In several respects, this project anticipated one that W.E.B. Du Bois would began toward the end of his life. Murray accumulated almost 500 biographies of significant Black historical personalities and luminaries. He never published this collection, but much of his research appeared later in the popular magazine Voice of the Negro, where many of his articles and essays appeared.