Liberty dealt double blow
Lois Elfman | 5/25/2017, 1:31 p.m.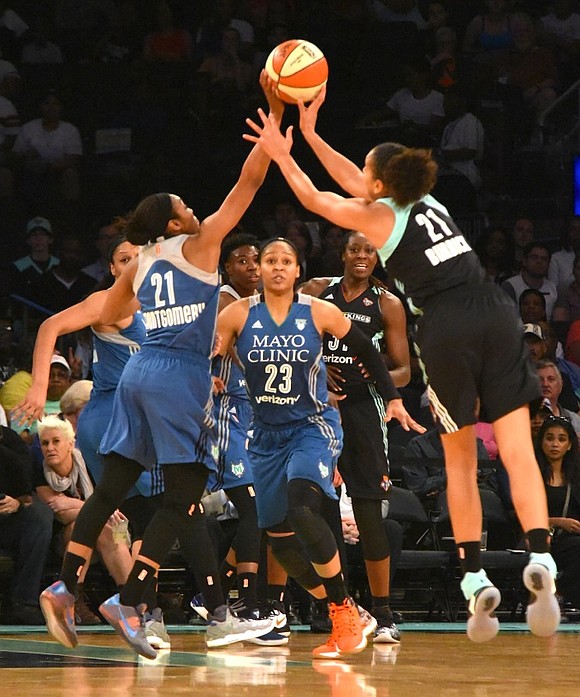 Up against the Minnesota Lynx, three-time WNBA Champions, the New York Liberty's lack of cohesion coupled with an ailing Tina Charles led to a 90-71 loss. Making the defeat all the more painful is that starting point guard Brittany Boyd suffered a season-ending injury, a torn left Achilles tendon, late in the game.
With or without Boyd, Liberty players must focus on better execution and develop more consistency. Coach Bill Laimbeer said the team has to become more disciplined, and the players are in for some intense practices.
"We count on [Tina] a lot—more so last year, hopefully a little bit less this year, but still if she's not engaged in the ballgame for whatever reasons, we're going to struggle," said Laimbeer. "But we should still be able to execute our offense and get good shots."
Laimbeer said he'll have a greater sense of the team dynamic after a couple more games into the season. Right now, he said, "It's a work in process." He added that the team has to play harder and better.
Laimbeer praised the discipline that the Lynx continue to display. Four of the five Lynx starters—Rebekkah Brunson, Maya Moore, Seimone Augustus and Lindsay Whalen—have been together for several seasons. The fifth starter, Sylvia Fowles, joined the team in 2015.
"We were focused from get-go," said Fowles. "We're going to go back and watch film and continue to push forward."
It's been a pretty great couple of years for Fowles, who won her third Olympic gold medal last summer. She played in China during the offseason, which is a shorter season, allowing her some time at home in Miami to rest and recharge before the WNBA season.
"I try to grasp everything and soak up the moment and appreciate the people that I'm around," said Fowles. "I wouldn't be here without these young ladies and the ladies from the Olympic team pushing me to be who I am today. I'm just grateful to have this opportunity and I'm grateful to have teammates like this."
She added, "We make each other better. That's something we try to do as women—make each other better and make each other great."
The Liberty are now on a West Coast road trip. The team returns to the Garden Tuesday, May 30, to take on reigning WNBA Champions, the Los Angeles Sparks.