President Trump is true agent of hope and change in the Middle East
5/25/2017, 11:48 a.m.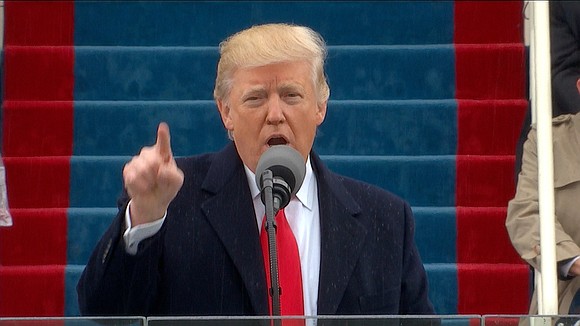 A new day has dawned in the Middle East. On the heels of Donald Trump's first visit to Israel as president of the United States, it is evident that the game has changed. America is right back where it belongs—at Israel's side.
America and Israel are both two great democracies, committed to an unbreakable bond rooted in shared values of freedom.
Yet for President Trump, his friendship with Israel transcends politics. It is personal.
The president's historic decision to become the first sitting president to visit the Western Wall, one of Judaism's holiest sites, was a highly symbolic political and personal gesture. Trump took it upon himself to share that personal and meaningful moment with his family.
First Lady Melania Trump, Ivanka Trump, the president's daughter and Jared Kushner, the president's senior adviser and son-in-law, also prayed at the Western Wall. It has even been reported that Ivanka Trump was so touched that she wiped away a tear while praying at this sacred site.
The mere optics of Trump's visit to Israel have introduced a new chapter for renewed hope that some measure of stability and clear-headedness can emerge in this very troubled region.
Trump has made it very clear that he understands that Israel and America are fighting the same constellation of enemies—radical Islamic terrorists and Iran. Despite variances in the ideologies of ISIS, Hamas or other radical Islamist groups, what matters most to America and other Western democracies is that these extremists are inhumanely programmed to celebrate death and terrorism. Trump understands that the stakes are high and that America is at war, not because we have sought it, but because enemies are committed to threatening us.
During his visit to Saudi Arabia before arriving in Israel, Trump met with King Salman and other leaders of the Arab and Muslim world. They, too, expressed shared concerns about ISIS, Iran's geopolitical hegemonic ambition and the threatening growth of radical extremism throughout parts of the Muslim world.
What Trump has already managed to achieve preliminarily, is to set the stage for a strategic alliance between America, Israel and Arab leaders, who all wish to thwart the Iranian nuclear threat, while simultaneously working to bring stability, and eventually peace, to the Middle East.
Trump is already emerging as an agent of change in the context of traditionally stagnant peace negotiations in the Middle East by moving the goalposts, and reframing the parameters of dialogue.
By cultivating powerful alliances with the Sunni Arab nations, which will ultimately serve to better safeguard Americans from the threat of terrorism, Trump is taking a long overdue stance against Iranian smugness and support for terrorism. Whereas President Obama's catastrophic nuclear accord only served to embolden the Iranian regime, the world's largest state-sponsor of terrorism, Trump unwaveringly reiterated during his visit to the Middle East that Iran must never obtain a nuclear weapon.
His enemies and opponents can agree that when it comes to Trump, he is not afraid to speak his mind.
Before meeting with Israeli Prime Minister Benjamin Netanyahu for dinner May 22, Trump publicly stated, "I believe that a new level of partnership is possible and will happen—one that will bring greater safety to this region …This includes a renewed effort at peace between the Israelis and the Palestinians, and I thank the prime minister for his commitment to pursuing the peace process ... It's not easy. I've heard it's one of the toughest deals of all, but I have a feeling that we're going to get there eventually, I hope."