Rihanna slays at Cannes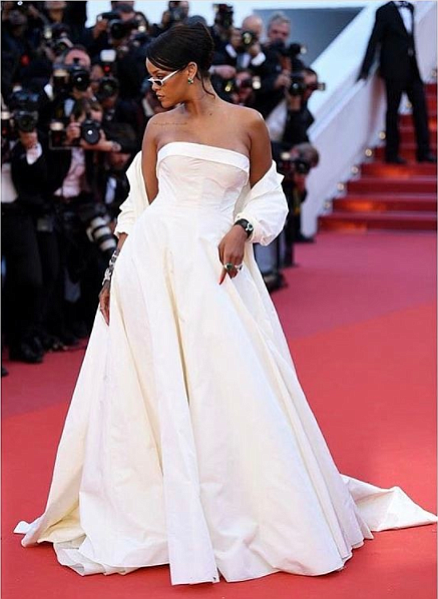 Tyler Perry is my hero. After Mo'Nique's sudden rant on the Apollo stage during her stand-up comedy show in Harlem May 13, letting her audience know she was still very upset at Perry, Oprah Winfrey and Lee Daniels, after all the hoopla over her refusing to promote "Precious" unless she was paid, and now she feels that she's been blackballed, the prolific producer/actor/director/writer called the Oscar winner. Mo'Nique said, "I wanna give that brother credit where credit is due. We did get a call from Tyler Perry last night, but I'll share the conversation tonight, but he did call. If a brother did pick up the phone and we did have a conversation and Imma share." Mo'Nique also joked that
she talked to Madea, too.
Rihanna continued to slay all competition on the red carpet at the Cannes Film Festival in Cannes, France. May 19, the pop superstar turned heads at the premiere of "Okja," wearing a white floor-length evening gown accessorized with emerald earrings from her Chopard jewelry line. The night before it was reported that Ri Ri hosted an exclusive cocktail and dinner party with Chopard CEO Caroline Scheufele on the Chopard rooftop at the Grand Hyatt Hotel Martinez. Rihanna is starring in two high-powered movies, "Valerian" and "Ocean's 8."
My favorite new actor, "Hit the Floor's" McKinley Freeman got engaged recently to one of Beyoncé's backup dancers, Sarah Alice Burns. Fast becoming one of the hardest working actors in show business, Freeman can currently be seen in OWN's "If Loving You Is Wrong," appeared on a recent episode of "Scandal" and will be seen back on VH1 next month in "Daytime Divas" with Vanessa Williams and Tichina Arnold. Speaking of "Hit the Floor," the hit show is coming back on BET. Freeman and Burns have been dating for approximately a year. Congratulations to the happy couple!
The Greater Harlem Chamber of Commerce/Harlem Week has announced participation in Fleet Week. The Intrepid Sea, Air & Space Museum will celebrate the 29th annual Fleet Week, taking place May 24 to May 29, 2017. From May 27 to 29, the Greater Harlem Chamber of Commerce will invite all attendees to Fleet Week to "Discover Harlem" at its booth on the Intrepid, which will include prizes via the Harlem History Game Wheel, Exercise Demonstrations courtesy of the Harlem YMCA and a social media experience coordinated by Silicon Harlem.