New Yorkers defiant after deadliest terror attack in the city since 9/11
Nicole Chavez, CNN | 11/1/2017, 7:05 a.m.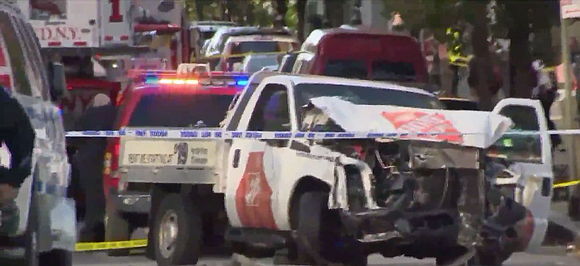 (CNN) -- After a 29-year-old man drove a truck into a Manhattan crowd on Tuesday, killing eight and wounding almost a dozen in the deadliest terror attack to hit the city since 9/11, New Yorkers made it clear that they refused to be intimidated.
Families celebrated a traditional Halloween Parade hours after the attack, surrounded by police officers armed with long guns while dozens of local and federal law enforcement officers were still investigating the attack.
"This was an act of terror, and a particularly cowardly act of terror," New York Mayor Bill de Blasio said, "aimed at innocent civilians, aimed at people going about their lives who had no idea what was about to hit them."
The suspect has been identified as Sayfullo Habibullaevic Saipov, according to two law enforcement sources. He allegedly drove a rented pickup truck onto a busy bike path near the World Trade Center, crashed the truck into a school bus, then stepped outside brandishing imitation firearms. A police officer shot him in the abdomen, and he underwent surgery at a local hospital.
Here are the latest developments in the attack:
Saipov had been an Uber driver in New Jersey for over six months, the company told CNN. The company is cooperating with authorities in the investigation.
The President of Uzbekistan Shavkat Mirziyoyev said in an open letter published Wednesday that his country will use all "means necessary" to help the investigation into the New York terrorist attack. The suspect came to the US from the central Asian nation in 2010.
The New York police officer who shot and apprehended the suspect in Tuesday's attack has been identified as Ryan Nash, a law enforcement source told CNN. The 28-year-old officer joined the department in 2012.
Argentina's Ministry of Foreign Affairs said on Twitter that five Argentine citizens were killed.
Authorities found a note claiming the attack was made in the name of ISIS near the truck used in the attack, a senior law enforcement official said.
The suspect
After he was shot, Saipov underwent surgery on Tuesday. Officers were able to talk to him before the surgery, but it was unclear if he told them anything, a law enforcement source told CNN.
Saipov came to the United States in 2010 from the central Asian nation of Uzbekistan, a law enforcement source said.
Most recently, he lived in New Jersey, according to a law enforcement source. Neighbors said that he recently lived at least part-time in Paterson, New Jersey, not far from New York.
Just over six months ago, Saipov began driving for Uber in New Jersey, the company told CNN. He passed a background check and did not have any rider complaints about his safety as a driver, according to Uber.
Related: New York truck attack suspect passed Uber background check
He once listed his occupation as a truck driver, his marriage license shows.
The suspect had multiple interactions with law enforcement in several states, online records show. Saipov had traffic citations issued in Missouri and Pennsylvania. He was arrested by the Missouri State Highway Patrol in October 2016 after a warrant was issued when he failed to show in court for a misdemeanor offense. He paid a $200 bond, which he forfeited when he didn't show up in court for his next hearing in November. A guilty plea was entered on his behalf.