New Yorkers defiant after deadliest terror attack in the city since 9/11
Nicole Chavez, CNN | 11/1/2017, 7:05 a.m.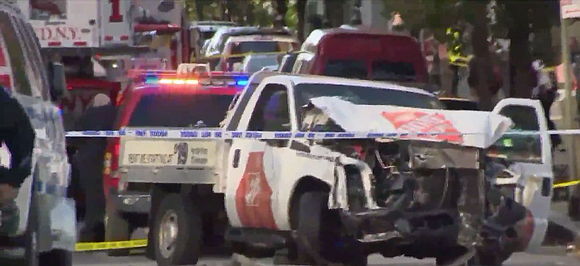 The victims
In a matter of minutes, a popular bike path in New York's lower Manhattan turned into a horrific scene. Crumpled bicycles littered the street as medics tended to the wounded.
Six people were declared dead at the scene, two were pronounced dead at the hospital and about a dozen were injured. Several were tourists visiting from abroad.
Five friends from Argentina who were celebrating their high school reunion were killed, Argentina's Foreign Affairs Ministry said.
"The Argentine Government expresses its sincere condolences for the death of Argentine citizens Hernán Diego Mendoza, Diego Enrique Angelini, Alejandro Damián Pagnucco, Ariel Erlij and Hernán Ferruchi which occurred as a result of the dramatic terrorist attack in New York this afternoon," the ministry said in a statement.
They had traveled to New York from Rosario, a town nearly 200 miles northwest of the country's capital of Buenos Aires. They were celebrating the 30th anniversary of their graduation from the Polytechnic School, a technical high school in Rosario.
A sixth Argentine national who was also part of the group was injured during the attack. He was out of danger, the ministry said, but as of Tuesday night, he was still recovering at New York-Presbyterian's Lower Manhattan Hospital.
"Deeply moved by the tragic deaths this afternoon in NY. We put ourselves at the disposition of the families of the Argentinian victims," Argentina's President Mauricio Macri tweeted.
Didier Reynders, deputy prime minister and foreign affairs minister for Belgium, said a Belgian national was also among those killed on Tuesday's attack.
Vehicles as weapons
Tuesday's attack turned an ordinary vehicle into a lethal weapon, a tactic used in other recent attacks in the West.
In 2014, an ISIS spokesman called for lone wolf attacks using improvised weaponry. "If you are not able to find an IED or a bullet, then single out the disbelieving American, Frenchman or any of their allies. Smash his head with a rock or slaughter him with a knife or run him over with your car or throw him down from a high place or choke him or poison him."
Since 2014, there have been 15 vehicular attacks in the West by jihadist terrorists, killing 142 people, according to a count by New America, a nonpartisan research institution. Those figures include Tuesday's attack in Manhattan.
For the past few years, police in New York have reached out to businesses that rent vehicles to warn them about possible terror threats and to let them know about ways to come forward.
"We did extensive outreach to the truck rental business. We visited over 148 truck rental locations in this area," New York Police's Deputy Commissioner of Intelligence and Counterterrorism John Miller said at a Tuesday news conference. "The industry has had a high level of awareness on this matter from the NYPD."
Miller said that if a company is suspicious of a would-be renter, they usually delay or simply deny a rental to let police investigate it.
The suspect drove a Home Depot rental truck he drove from New Jersey, Miller said.
A spokesman for Home Depot confirmed one of the company's rental trucks was part of an incident in lower Manhattan and said the company is "cooperating with authorities" in the investigation.