Tamika Mallory, NAACP meet with American Airlines CEO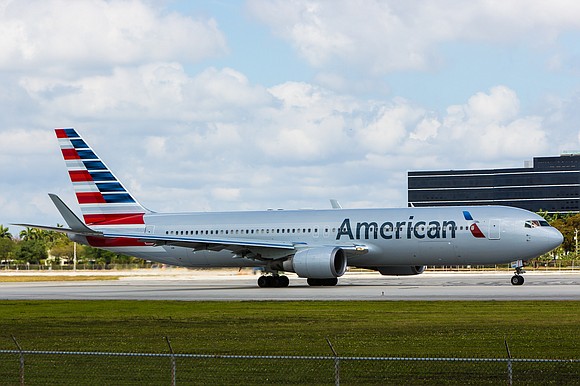 Activist Tamika Mallory and several civil rights leaders met with American Airlines CEO Doug Parker on Tuesday to discuss issues surrounding the company's alleged racial discrimination practices.
President of the NAACP, Derrick Johnson, and Melanie Campbell, the President of the National Coalition of Black Civic Participation and the Convener of the Black Women's Roundtable also attended the meeting. The NAACP recently announced a travel advisory urging Blacks not to fly American Airlines amid several reports of racial mistreat.
Mallory, who serves as co-chair of the Women's March on Washington, said she requested a seat change from a middle seat to an aisle seat at an airport kiosk last month on a flight leaving Miami. However, when she arrived to the gate she was given her original middle seat and explained to the gate agent that she changed her seat. She was removed from the plane by the pilot, who is white, over the situation.
"There is an industry-wide problem as evidenced by the videos and emails being sent to me, particularly from Black women that have been removed from planes and blatantly discriminated against by American Airlines," Mallory said. "There has not been a resolution, however this is the first of a series of meetings. We hope that they will come to the table to become a leader in setting industry standards that are non-discriminatory."
Mallory and her attorney Royce Russell have previously called for a thorough investigation of American Airlines' protocol of pilot-customer interaction and they will continue to publicize the discrimination until there is substantive policy change at American Airlines.
The from released from the NAACP, Johnson said he outlined the civil rights organization's travel advisory and the need for meaningful corrective action by the airline to prevent future incidents from happening.
"We had a full and frank dialogue, but words are no substitute for action," Johnson said. " The NAACP looks forward to continuing its work with American Airlines to ensure that African-American customers are not subjected to racially discriminatory treatment."
Reports indicate that American Airlines said the meeting was "positive."
"We welcomed the opportunity to meet, and had a positive and productive dialogue," American spokeswoman Shannon Gilson said in one report. "We look forward to continuing the conversation and working together."