Black FDNY captain under fire
CRAIG D. FRAZIER | 11/2/2017, 3:44 p.m.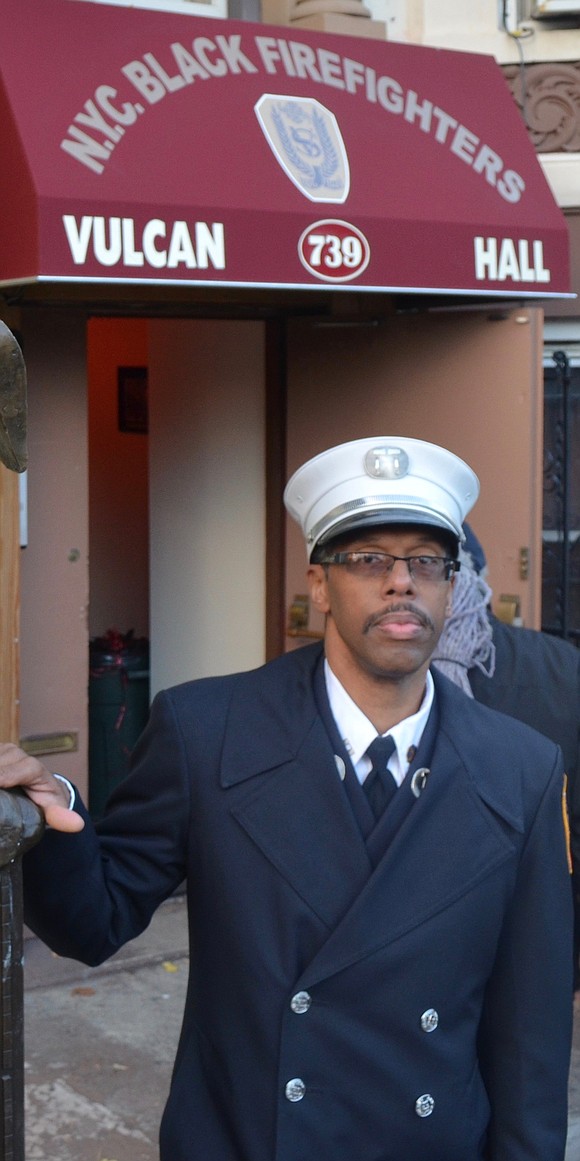 It appears that FDNY officials were offended and shared their feelings in recent news reports after Captain Paul Washington addressed students at a workshop back in March. The former Vulcan Society President and 29-year FDNY veteran was the guest speaker at an Urban Male Leadership Academy event at the Borough of Manhattan Community College. Reports surfaced after the presentation, which is on YouTube, when Washington said that the fire department is really different from how it is portrayed on TV and in the movies.
"We do not run into burning buildings," he said. "It can be dangerous, but it's not nearly as dangerous as people think,"
Those statements led to a backdraft of comments. Fire Commissioner Daniel Nigro stated three times that firefighters do run into burning buildings, during an Oct. 11 memorial ceremony. Apparently in response to Washington's remarks. On behalf of the commissioner, Deputy Fire Commissioner Frank Gribbon told the Chief Leader newspaper, "Downplaying the dangers of this job is something he will never do, and is a disservice to all who take the oath to serve and protect. And there's no more-appropriate time to talk about the dangers faced by members of the department than on Memorial Day, when thousands of uniformed members gather to remember, mourn and pay tribute to colleagues who have sacrificed their lives in service to the people of our city."
Uniformed Firefighters Association President Gerard Fitzgerald issued a statement that said, "The idea that being a firefighter is somehow not dangerous is ill-informed and insulting to the brave men and women who make up the FDNY."
Washington responded that the comments made by FDNY officials about his remarks regarding the dangers of working in the FDNY were irrational and taken out of context. He was in no way minimizing the dangers faced by firefighters.
"When it comes down to it," Washington told the AmNews. "I'm the company Black man that brought diversity to the FDNY and they are mad about that."
Washington said that if you watch the video it speaks for itself. "If people are mad for what I said, then there is something else here," stated Washington. "To pretend that the statement I made saying that firefighters don't run into burning buildings made firefighters angry is not accurate."
In 2007, Washington filed a discrimination complaint against the FDNY with the Equal Employment Opportunity Commission. In 2014, Brooklyn U.S. District Judge Nicholas Garaufis finalized a controversial ruling that found the FDNY guilty of discrimination after the Vulcan Society successfully challenged the methodology of the entrance exams. Garaufis awarded $98 million in damages and mandated the FDNY to appoint a court monitor to ensure that the department goes beyond rewriting its firefighter exam.
"Capt. Washington was not and is not being investigated because of his involvement in the lawsuit." Gribbon told the AmNews. "The department has a strong and unequivocal position prohibiting retaliation of any kind concerning the lawsuit. Further, the department continues to be overseen by a court-appointed monitor and anyone claiming retaliation would have recourse with the monitor."