CARICOM gets UN support for hurricane donors conference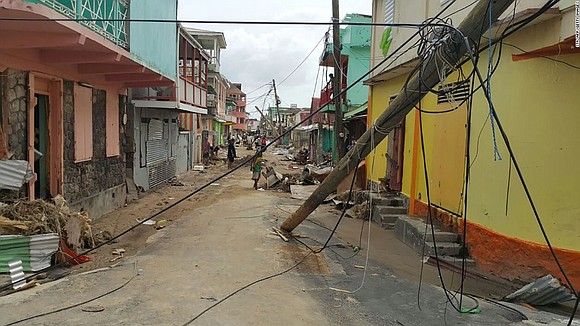 Caribbean leaders and high officials from countries that were pulverized by the stronger than usual 2017 hurricane season are headed to New York for a major international donor's conference in November, where they hope to raise well in excess of $2 billion, mostly in grant aid, to help affected countries rebuild better, stronger and smarter ahead of next year's storm season.
Colin Granderson, assistant secretary of the 15-nation grouping of countries, said Monday that no government in the region can muster the resources to help any battered country rebuild, so nations have asked the United Nations Development Program to help them coordinate the two-day meeting from Nov. 21, because countries are struggling to rebuild destroyed infrastructure.
Dominica and Barbuda, the smaller sister isle of Antigua, were among the Caribbean single trading bloc countries that were ruined by the 2017 storms, and most of the focus will be on these two. Officials say they have no plan to ignore the fact that associate members such as the Turks and Caicos Islands and the British Virgin Islands had also suffered serious damage.
Additionally, the region also has an interest in most of the others because of the large populations of nationals from the bloc living in places such as Dutch St. Maarten, French Saint Martin and the U.S. Virgin Islands. Hundreds were given free flights back home in the days after the storms. Hundreds of nationals, mostly university students, are also living in Cuba, which itself had suffered major damage from the storms.
For the two-day meeting, the World Bank, the International Monetary Fund, Western donor nations, including the U.S., and some of the wealthier countries in the Middle East are expected to attend, Granderson said.
He said the idea would be to rebuild countries with infrastructural systems that could withstand Category 5 storms because these storms now appear to be the norm, and to enforce agreed building codes to avoid the type of devastation experienced in the current storm season.
"We have to look at things like whether it makes more sense to run your power lines underground rather than overhead, ensure private homes are built to codes as climate change mitigation and adaptation efforts are important," Granderson said. "But to rebuild better, it will cost more money than before, so that is why we are holding this conference,"
In fact, he said, Dominica has already offered itself to be "the first climate resilient country in the world" by completely overhauling its infrastructure rather than rebuilding using current methods.
Hurricanes Irma and Maria pounded the region in September, killing more than 50 people and causing billions in damage. Barbuda's population of approximately 1,600 was completely evacuated to Antigua, and as was the case in Dominica, more than 90 percent of the buildings were destroyed by winds of up to 230 miles per hour. Others hit but not as badly were some of the southernmost islands in the Bahamas chain: Haiti, St. Kitts and Nevis and Anguilla.
Several leaders and high officials have already signed on to attend the conference.