Former NJ police chief accused of espousing violence toward African-Americans
Steve Almasy and Tony Marco, CNN | 11/2/2017, 7:49 a.m.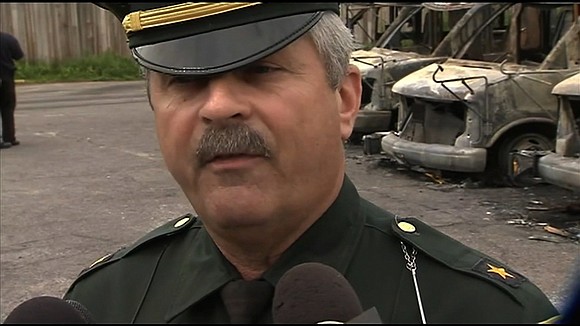 (CNN) -- The recently retired chief of police of a New Jersey township was arrested Wednesday by the FBI and charged with a federal hate crime for allegedly slamming a handcuffed African-American suspect into a doorjamb during a 2016 arrest.
According to a criminal complaint against Frank Nucera Jr., who resigned in January, the former chief espoused violence toward African-Americans, using the N-word and other epithets.
He allegedly told an officer in his Bordentown police department that "The n-----s are like ISIS, they have no value."
"They should line them all up and mow 'em down," he said, according to an affidavit accompanying the complaint.
Nucera also is charged with deprivation of rights by using excessive force during an arrest in September of last year.
CNN attempted to reach Nucera's attorney but was unsuccessful.
The affidavit says Nucera talked of using police dogs in a "racially discriminatory" way to intimidate African-Americans.
The chief worked for Bordentown Township, a southern New Jersey town of 12,000 residents, since 1983, the Trenton Times reported. The township is a mostly white suburb of Trenton.
"The conduct alleged is shocking," acting US Attorney William E. Fitzpatrick said at a news conference. "It's a shocking breach of the duty of every police officer to provide equal justice under the law and to never mistreat a person in their custody."
Nucera appeared in court Wednesday afternoon in Camden and waived his right to a preliminary hearing. He was released on a bail of $500,000.
On September 1, 2016, the former chief responded as backup to a scene where two African-American teenagers were being arrested for using a hotel room without paying.
One of the suspects was handcuffed and being led from the room. According to the FBI, Nucera approached the teen from behind and slammed his head into a metal door jamb.
An officer at the scene recorded the chief making racist remarks, the complaint says.
"I'm f-----g tired of them, man. I'll tell you what, it's gonna get to the point where I could shoot one of these m----rf-----s. And that n----r b---h lady, she almost got it," the chief said, according to the complaint.
If convicted of each count, Nucera faces up to 20 years in prison.
The court filing says the officer had recorded the chief for about a one year period. The officer eventually reported the alleged crimes to the US Department of Justice, officials said.
The town's mayor called the charges "abhorrent."
"The township appreciates the comments by the US Attorney ... which reinforced what we already knew: that these charges are limited to one person, and are not indicative of the Bordentown Township Police Department, or the Township as a whole," Mayor Steve Benowitz said in a statement. "It is important to note that these charges began from a self-reported complaint from within the township police department. The township has moved forward with new leadership that promotes community, inclusion, and equality."
Nucera retired in mid-January, just after the New Jersey Attorney General was informed of the investigation into Nucera's alleged racially motivated use of excessive force.