Talking SCHOP! All hail, Babu Ji!
Kysha Harris, Food Editor, @SCHOPgirl | 11/2/2017, 3:39 p.m.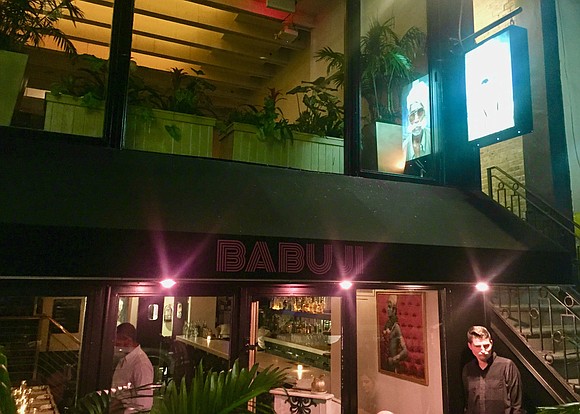 I love me some good food! No matter the cuisine, if it is good, I am in. Great food, on the other hand, cannot be forgotten. I can tell you what I had, when and where I had it. The power of this kind of food can be transformative. Here is my story of Babu Ji (@babujinyc, 22 E. 13th St., 212-951-1082, www.babujinyc.com).
It was a Saturday night and all was right. I spent the day co-working with my friend, Jamie, at her apartment. A change in her evening plans left an opening for me to stand in for what would be a great night for the eyes and stomach.
Jamie had tickets to see "Stomp" in the East Village. I had been many, many years ago, when a high school friend was part of the cast. I did not think the show could evolve beyond what I had seen in the '90s, but I was wrong. From the first sound to the last, I was riveted. The creativity, the energy, the call-and-response and the passion is in your face for almost two hours. We left feeling inspired…and hungry!
Jamie said she wanted to try an Indian restaurant on 13th Street that had gotten some great reviews. I was down for the crown! We stomped our way over from Second Avenue, creating our own rhythms along the way.
We arrived at Babu Ji toward the latter part of their service, but I did not realize it with the attentive staff from the hostess to the bussers. We sat upstairs in the color-cast light.
The table, set with metal plates and cups, set a tone for a different dining experience. Cocktails? Yes, please! I had to get up in the Sardani Ji, a Hendricks gin cocktail with elderflower, cucumber and lime. Though, the addition of black pepper and celery bitters is what sent my eyes to the back of my head. Those savory notes struck the right balance. Jamie's Don't Tell Auntie cocktail of Casamigos tequila with Montelobos mezcal, aperol, beetroot, lime and rimmed with black lava salt was also a hit.
Because it was late, we tempered ourselves, sharing two items from their From the Street menu (pappadum with chutneys, Colonel's Tao's Cauliflower), one from the From the Pots (coconut shrimp curry) and two from the On the Side menu (aged basmati sella rice, naan basket). Now that I write it, we weren't that tempered…but I was happy to have had it all!
We caught feelings for Colonel Tao and his cauliflower that night…feelings I still need to express thoughtfully and in full breadth. Join me on my blog at www.TalkingSCHOP.wordpress.com for the soliloquy.
Thank you Babu Ji…you too, Jamie!
Happy eating and thanks for reading!
Kysha Harris is a food writer and editor, culinary producer, consultant and owner of SCHOP!, a personalized food service in NYC for more than 15 years. Follow her on Twitter and Instagram, @SCHOPgirl, on Facebook, /SCHOPnyc, and her blog, www.talkingSCHOP.wordpress.com. Questions? Comments? Requests? Feedback? Invitations! Email AmNewsFOOD at AmNewsFOOD@SCHOPnyc.com. Follow us on Instagram, Twitter and Facebook @NYAmNewsFOOD and tag us with #SoAmNewsFOOD with your food finds!