Terror attack strikes Lower Manhattan
SHANICE LEWIS | 11/2/2017, midnight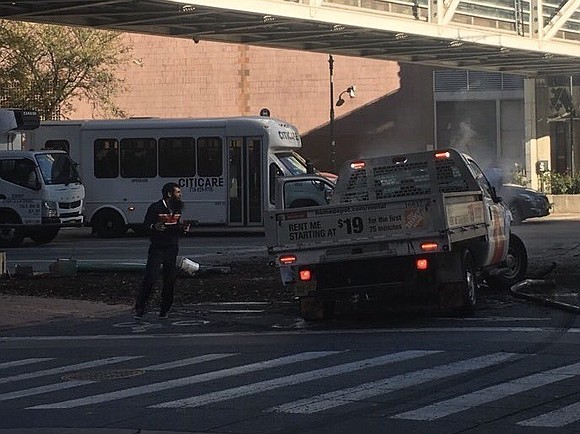 "Our thoughts and prayers go out to those who were killed and injured during today's tragic incident in New York City," said Senate Democratic Leader Andrea Stewart-Cousins. "Thank you to the NYPD and first responders for their response in the face of danger. I pray for the victims and their families as we continue to learn more about this horrific incident."
What was supposed to be an afternoon of fun, ghouls and treats turned into a real life horror scene as a truck-driving terrorist plowed his way through Lower Manhattan leaving a mile-long path of destruction, taking the lives of eight victims and leaving a dozen more injured. The driver has been identified as Sayfullo Saipov, a 29-year-old Patterson, N.J., resident, who reportedly lived there with his wife and two or three children.
Shortly after 3 p.m. on Tuesday, a rented white Home Depot pickup jumped the curb near the Hudson River and entered the Westside Highway bicycle path at Houston Street. The driver, Saipov, continued south on the path, striking several bicyclists and pedestrians in his way.
After slamming into a school bus near Stuyvesant High School on Chambers Street, Saipov exited the truck wielding what appeared to be two handguns, witnesses said. Officer Ryan Nash, assigned to the 1st Precinct, was in the area responding to a routine call when he decided to spring into action and confront Saipov, ordering him to drop the weapons. Reluctant to comply with the officer's commands, the suspect was then shot in the abdomen. He was transported to Bellevue Hospital, where he remains in police custody. A paintball gun and pellet gun were later recovered at the scene.
Reports state that five of the dead are from Argentina, one is from Belgium and one is from Germany. The five hailing from Argentina were on a vacation celebrating 30 years of friendship when they were stuck during the terrorist's rampage while they were riding their bicycles. The woman from Belgium was struck while riding her bicycle and died at a nearby hospital.
Schools Chancellor Carmen Fariña confirmed that two students and two staff members were injured when Saipov drove into a school bus. At press time one of the students was still in critical condition.
In a news conference following the incident Mayor Bill de Blasio and Gov. Andrew Cuomo thanked the NYPD and first-responders for their efforts in aiding the victims and apprehending the suspect.
"Our first responders did an extraordinary job. The NYPD, the FDNY, the FBI, the New York State Police, EMS—they, we have the finest security on the globe and to see them in action today proved that once again," said Cuomo.
"We know that this action was intended to break our spirit, but we also know New Yorkers are strong, New Yorkers are resilient. And our spirit will never be moved by any act of violence," said de Blasio on Wednesday, before heading off to the annual Halloween Day Parade. De Blasio took the time to applaud the bravery of many New Yorkers and encouraged them to be safe and aware of their surroundings. "We have been tested before as a city very near the site of today's tragedy. And New Yorkers did not give in in the face of these kinds of actions. We will respond as we always do. We will be undeterred," said the mayor.