Terror attack strikes Lower Manhattan
SHANICE LEWIS | 11/2/2017, midnight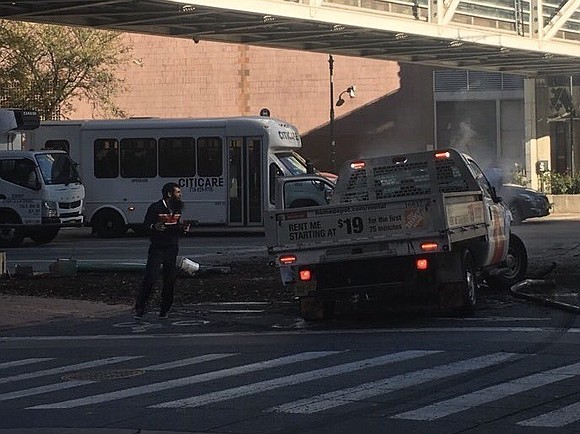 In what is now being called New York City's worst massacre in years, the Isis-pledging terrorist has left a stain in the hearts and minds of the victims, families and many New Yorkers.
The Council on American-Islamic Relations, the nation's largest Muslim civil rights and advocacy organization, said, "CAIR condemns today's horrific and cowardly attack in Manhattan and offers sincere condolences to the loved ones of those killed and injured. Since the goal of such heinous crimes is to divide our nation, it is incumbent on Americans of all faiths and backgrounds to frustrate that criminal objective by standing united in the face of terror."
"Like all New Yorkers, we mourn those who died today, and our thoughts are with the families and friends they leave behind," said CAIR-NY Legal Director Albert Fox Cahn. "In the wake of this tragedy, we know that New Yorkers will not only show our city's enduring resilience, but we will prove that our love and compassion are stronger than anyone who attacks and divides us."
Mangled bikes and bloodied bodies lining the street were the aftermath of the deadly attack that is reminiscent of similar terrorist car attacks that have taken place in recent years in cities such as London, Barcelona and Berlin.

Police and the FBI are asking anyone with any information, videos or pictures from the scene to provide that information to them.
"It is with a heavy heart that I offer my thoughts and prayers to the victims of this cruel, tragic and senseless act of violence," said Assembly Member Michael Blake. "As we watch yet another tragic act of violence happen here in New York, we thank the first responders who fearlessly rushed to the scene to provide medical assistance to the victims and to the police who have at this time swiftly apprehended the accused."
Blake added, "When tragedy strikes, we show our strength by our response. Such hateful, angry action is unfathomable and unacceptable. Let us turn to each other in a spirit of love and healing, not seeking to provide the perfect answer but just to be present however someone needs you right now and for all of the days to come. Let us come together in unity, stand strong and say that #EnoughIsEnough."