Trump's cronies indicted
Herb Boyd | 11/2/2017, 1:47 p.m.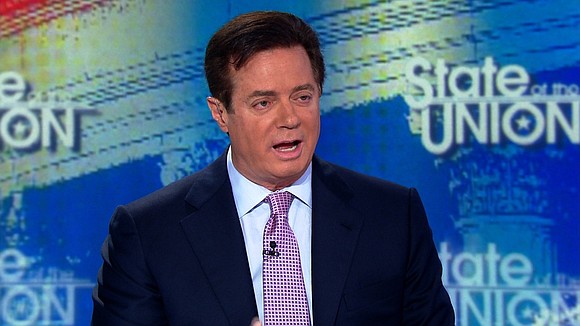 After weeks of waiting and wondering how Special Counsel Robert Mueller's investigation was going, a resounding answer arrived Monday with indictments against Paul Manafort, President Trump's former campaign manager, and Rick Gates, Manafort's associate.
The indictment, which has been redacted and posted online, charges that Manafort and Gates served for years as consultants and lobbyists, and between at least 2006 and 2015 "acted as unregistered agents of the government of Ukraine." In that capacity, according to the indictment, they "generated tens of millions of dollars of income as a result of their Ukraine work."
To hide Ukraine payments from U.S. authorities, most critically the Department of Justice and the Treasury Department, they "laundered the money through scores of United States and foreign corporations, partnerships and bank accounts."
All told, some $75 million flowed through the accounts, with $18 million being laundered by Manafort, allowing him to purchase unlimited goods and services, property and luxury items, and pay his children's tuition. The unsealed indictment of 12 counts against Manafort include conspiracy, money laundering, failure to register as a foreign agent and lying to investigators.
There was no mention of Trump or possibility of collusion between his campaign team and Russia, but a deeper probe into the case leaves open a charge of obstruction of justice, which could reach the Oval Office.
"Sorry, but this is years ago, before Paul Manafort was part of the Trump campaign," Trump tweeted. "But why aren't Crooked Hillary & the Dems the focus???"
As before, Trump charged that the investigation was a witch hunt. "There is no collusion," he added.
Manafort surrendered to the FBI Monday, and earlier former Trump foreign policy adviser George Papadopoulos, who was arrested in July, pleaded guilty to lying to the FBI about his contacts with Russia. Manafort's indictment has overshadowed this revelation that in the long run could be even more damaging to the Trump administration.
Even so, the charges against Manafort should not be minimized, and they are deadly serious, said Rep. Eliot L. Engel, the ranking member of the House Foreign Affairs Committee. "We need to know everything that has occurred here; no stone can be left unturned," the congressman said in a statement. "That's why Mr. Mueller's investigation must proceed unimpeded. If the president fires Mr. Mueller or pardons anyone in exchange for their silence, we will find ourselves in a constitutional crisis rivaling Watergate." 
Engel also stated, "It is imperative that we convene an independent commission—one that is separate and apart from the politics of the Justice Department and Congress—to investigate the possible collusions between the Trump campaign and the Kremlin. Clearly, Vladimir Putin and his cronies worked hard to tip the scales of our election. For the sake of protecting our electoral process and its integrity going forward, we need the extent of their meddling to be made clear and devise ways to prevent future attacks on our democracy."