2017 TCS New York City Marathon Results
VINCENT DAVIS | 11/6/2017, 6:02 p.m.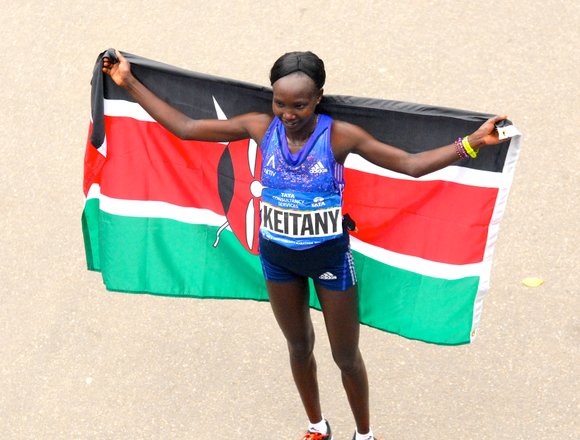 For the first time in 41 years, an American woman has won the New York City Marathon. Shalane Flanagan came in first place, running the race in2 hours, 26 minutes and 53 seconds dethroning the three-time defending champion, Mary Keitany of Kenya, probably the most feared runner in this year's race. Keitany placed second, 59 seconds behind Flanagan.
"I knew that it was possible," said Flanagan. "I believe amazing things can happen. My coaches told me that it was possible. The training that I put inwas the best I've ever had. They made me believe that today it could happen if I just ran a tactically sound race."
The New York City Marathon has grown from a race in Central Park with 55 finishers to the world's biggest and most popular marathon. Over
51,000 professional and amateur runners finished the race in 2016. Runners start in Staten Island and run the course through all five of the city's boroughs; Staten Island, Brooklyn, Queens, the Bronx and Manhattan, now concluding in the iconic park. A run of 26.2 total miles.
Men Winners
1st Place: Geoffrey Kamworor (Time: 2:10:53) Kenya
2nd: Wilson Kipsang (Time: 2:10:56) Kenya
3rd: Lelisa Desisa (Time: 2:11:32) Ethiopia
4th: Lemi Berhanu (Time: 2:11:52) Ethiopia
5th: Tadesse Abraham (Time: 2:12:01) Switzerland
Women Winners
1st Place: Shalane Flanagan (Time: 2:26:53) United States
2nd: Mary Keitany (Time: 2:27:54) Kenya
3rd: Mamitu Daska (Time: 2:28:08) United States
4th: Edna Kiplagat (Time: 2:29:36) Kenya
5th: Allie Kieffer (Time: 2:29:39) United States
Wheelchair - Men Winners
1st Place: Marcel Hug (Time: 1:37:21) Switzerland
2nd: John Charles Smith (Time: 1:39:40) United Kingdom
3rd: Sho Watanabe (Time: 1:39:51) Japan
4th: Ernst Van Dyk (Time: 1:39:56) South Africa
5th: Masazumi Soejima (Time: 1:39:58) Japan
Wheelchair - Women Winners
1st Place: Manuela Schar (Time: 1:48:09) Switzerland
2nd: Tatyana McFadden (Time: 1:51:02) United States
3rd: Amanda McGrory (Time: 1:53:11) United States
4th: Lihong Zou (Time: 2:03:20) China
5th: Madison De Rozario (Time: 2:04:28) Australia
Handcycle Category - Men Winners
1st Place: Ludovic Narce (Time: 1:28:48) France
2nd: Lars Hoffmann (Time: 1:28:57) Germany
3rd: Fabio Faborges (Time: 1:29:15) Brazil
4th: Vicente Yanguez (Time: 1:33:06) Spain
5th: Matthew Robinson (Time: 1:34:19) United States
Handcycle Category - Women Winners
1st Place: Tiffiney Perry (Time: 1:54:09) New Zealand
2nd: Devann Murphy (Time: 2:20:59) United States
3rd: Beth Sanden (Time: 2:43:02) United States
4th: Jessica Hayon (Time: 2:58:36) United States
5th: Danielle Watson (Time: 3:04:24) United States