De Blasio re-elected in victory for New York City progressives
Gregory Krieg, CNN | 11/8/2017, 7:03 a.m.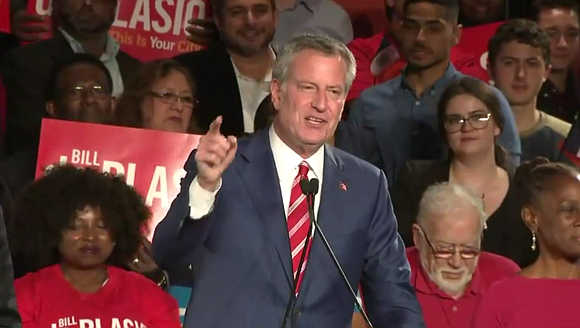 (CNN) -- For the first time in more than three decades, New York City, a national liberal stronghold that historically balks at ideological leadership inside its own narrow borders, has re-elected a Democratic mayor -- one with unabashed progressive politics and an eye on Washington.
Mayor Bill de Blasio rewrote recent history despite having operated under near constant assault from the city's boisterous tabloid newspapers, while doing little himself to smooth over sometimes testy relations with eye-rolling New Yorkers.
On Tuesday night, de Blasio pushed again for a new tax on the wealthy to help fund repairs to the city's troubled subway system, but won the most applause when he touted Democratic wins in the New Jersey and Virginia gubernatorial races.
"I bring you tidings of joy this evening, because America got a little fairer tonight, America got a little bluer tonight," de Blasio told supporters at a victory party in Brooklyn. Perhaps turning his attention to President Donald Trump, a native New Yorker, he added: "Tonight, New York City sent a message. You can't take on New York values and win, Mister President. If you turn against the values of your hometown, your hometown will fight back."
De Blasio's road here was unlikely one. He shocked the city's political elite by emerging from a crowded Democratic primary in 2013 and, with a landslide victory on Tuesday, locked up a second term after a campaign run without a serious challenge from anyone inside his own party or, in this fall's general election, city Republicans, who all but ceded the race.
For progressives in the Trump era, de Blasio's success represents new evidence to back an argument that ambitious, broad-based economic reforms -- like those put forward by Vermont Sen. Bernie Sanders, who endorsed and campaigned with the mayor last week -- can win over political skeptics and break through a wall of criticism from moderate Democrats and, in New York, the scrappiest of press corps -- a group de Blasio has made little effort to pacify.
"The tabloids are entertainment with a very small dose of news," de Blasio told CNN through a spokesman on Tuesday. "New Yorkers' political views are shaped much more dramatically by what they are feeling in their lives. They'll trust their own experience when it comes to universal pre-K, neighborhood safety, school improvement and what I'm doing to keep their apartment affordable. They strain out the entertainment when push comes to shove."
And there has been plenty of the latter -- the sideshow amusements and screeching tabloid recriminations -- during his nearly four years on the job.
De Blasio was barely a month in office when he fumbled, literally, a stand-in for "Staten Island Chuck," the city's answer to "Punxsutawney Phil," during a public ceremony. The animal would later die, reportedly of internal injuries, leading to charges that the zoo, as a favor to the mayor's team, had as the New York Post then put it, initiated a "cover-up." His morning schedule, which often takes him from Manhattan to his home borough of Brooklyn and a preferred gym, along with his late arrival at a 2014 memorial for victims of a 2001 plane crash in Queens, have provided fodder for countless aggrieved headlines.