Anita Baker—the songstress and the T-shirt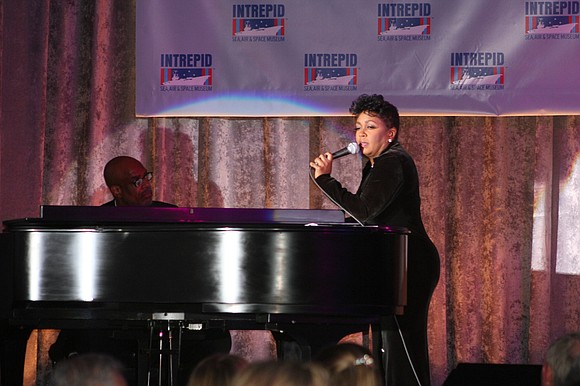 I'm sitting here trying to figure out how her energy emerged and became newsworthy. As a reach I found that out of her eight solo projects, she has had two albums originally released close to today's time-frame: "Giving You the Best That I Got" and "Christmas Fantasy," in the respective years of 1988 and 2005. A rerelease of her debut album "The Songstress" was put in the marketplace Nov. 12 of 1991, but nahhh. Whatever the spark, however, I ain't mad. Anytime the artistry of Anita Baker is bought to the forefront, we need to tap into that.
The first item came from another enigmatic artist, legendary master of ceremonies Andre 3000, half of the duo Outkast. In the holiday 2017 edition of GQ Style magazine, it was revealed that Andre wanted to develop a line ofT-shirts in her honor. He speaks in-depth about the rational by stating, "As you get older, the people you love pop back up. I was going through an Anita Baker phase, and I started trying to buy a T-shirt. So I go on the internet and I find this site that had shirts with photos of Anita on them. So I bought two or three of them. Then when I got 'em in the mail, they were like—the part of the shirt where the picture was printed on there was so hard."
He continued, "Right, it feels like this big piece of wood on your chest. So it's like, 'Man, this clearly has to be bootleg.' I felt bad about it, because it's like, I know Anita ain't got [expletive] to do with these shirts. I'm an artist, and I'm buying bootleg shirts of another artist, so I felt bad. So I was like, maybe, so my conscience feels good, let me try to find an address for Anita and send her a little check. And it'll be a joke, like, 'Anita, I just bought these shirts, I feel bad about it, here's $50.' Then I started thinking, wouldn't it be great to design a line of Anita Baker tees and present the line to Anita? Maybe she needs some merch."
If that happens is for now in question, but at least it will be talked about. Baker responded via social media, Twitter, to say, "Ur an artist. we isolate S'times, become solitary & Yes, it's true the Artistry of Others pull us out. I know. I understand. We'll talk."
If the project does come to fruition, hopefully they'll be available when she returns to the stage. Although plans for 2018 haven't been spoken about, we do have one particular date to speak of. Tom Joyner announced on his show, last Tuesday, Oct. 31, that guests aboard the 2018 Tom Joyner Foundation Fantastic Voyage will be treated to an exclusive Evening with Anita Baker. Joyner, who's heard here in New York City on 103.9 FM, stated, "Man do I have a treat! Oooooo…I can't keep a secret. I'll explode! She's coming on the boat…Anita Baker is coming on the cruise…Thank you, Lord!"
In addition to Baker, other performers announced for Tom Joyner Foundation Fantastic Voyage Cruise include Chris Brown, Tamar Braxton, Kenny "Babyface" Edmonds, The Isley Brothers, The O'Jays, SWV, En Vogue, Jones Girls, Heatwave, GQ, Taste of Honey, The Sylvers, Brothers Johnson, Ying Yang Twins, Eastside Boyz, Trillville, Young Bloodz, Bonecrusher, Raheem Devaughn, Dwele, Eric Roberson, 112, the Manhattans featuring Gerald Alston, Force MD's, Das EFX, Grandmaster Melle Mel & Scorpio (Furious Five), DJ Kool, EPMD and the Fat Boys.
Details on the cruise can be found at BlackAmericaWeb.com or call 972.980.S-A-I-L.
We're sure to give more shine to this event throughout the year as we approach the event. For now, time to get some rest. Just back from the west. Will talk about it soon.
Til then, enjoy the nightlife.