Flanagan overtakes defending champ Keitany in NYC Marathon
Vincent Davis | 11/9/2017, 11:58 a.m.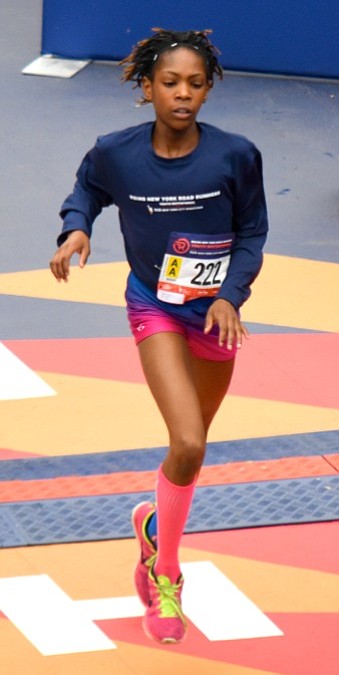 It was cloudy and damp with some drizzle at times Sunday morning. A light breeze was coming from the east. The temperature was 56 degrees. A high of 62 was expected. A perfect day for a marathon.
More than 51,000 professional and amateur runners from 125-plus nations and all of the 50 states participated in the annual 26.2-mile TCS New York City Marathon Sunday morning. It's the world's biggest and most popular marathon event. But with all of its loquacious grandiosity, all eyes of the world of running were on Kenyan Mary Keitany, the three-time defending champion, there for her fourth consecutive victory. That hope ended in the 23rd mile of the race when American Shalane Flanagan surprisingly broke from the pack of three women leading their category—Flanagan, Keitany and Mamitu Daska from Ethiopia—and distanced herself from the other two. It was over for the Kenyan, an upset, as Flanagan finished the last three marathon miles unchallenged, the first time an American woman has come in first in the women's division in 40 years.
"I knew that it was possible," said Flanagan, 36, not only winning the marathon but also defeating Keitany, who turns 36 in January, probably the most feared runner competing this day.
Flanagan continued, "I believe amazing things can happen. My coaches told me that it was possible. The training that I put in was the best I've ever had. They made me believe that today it could happen if I just ran a tactically sound race."
Flanagan's race time was 2 hours, 26 minutes and 53 seconds. Keitany, coming in second, crossed the finish line 61 seconds later.
As exuberant and emotional at times as Flanagan was—"I've dreamed of a moment like this since I was a little girl!"—Keitany was as vague about her marathon performance. Referencing a problem at home and the length of time of her run, the only part of Keitany's explanation that made sense was when she said, "In a race, sometimes you can lose, and that's part of life."
Manuela Schär from Switzerland added additional exuberance to the day after finally defeating four-time defending champion Tatyana McFadden in the marathon's women's wheelchair division. It was a sweep for the Swiss with Marcel Hug victorious in the men's wheelchair division, the first time wheelchair division winners have both been from the same country.
With a time of 1 hour, 48 minutes and 9 seconds, admittedly, the toughest race of her life, Schär finally won after three straight years of coming in second. It's been a great year for her. In 2017, she also won the Boston and London marathons. 
New York City Marathon participants start on Staten Island and run the course through all five of the city's boroughs: Staten Island, Brooklyn, Queens, the Bronx and Manhattan (Harlem), concluding in Central Park.