Geri Allen's music, name resounded at Carnegie Music Hall
Herb Boyd | 11/9/2017, 3:30 p.m.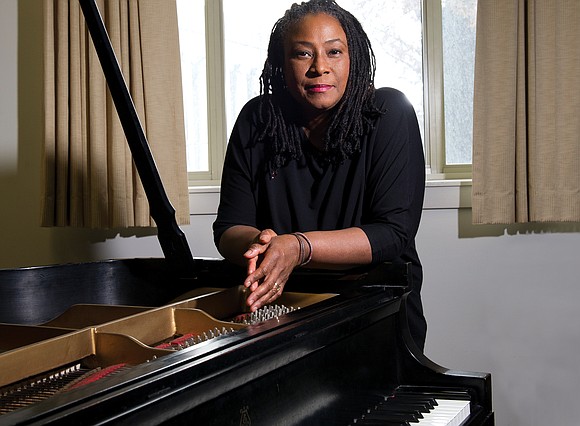 What Professor Deane Root wrote in the program and hostess S. Epatha Merkerson said about the extraordinary Geri Allen at the 47th annual Seminar and Concert Saturday evening at the Carnegie Music Hall in Pittsburgh was underscored visually as notable after notable in a short video tribute commented on her prowess as a pianist, composer, educator and mother.
"She was a sister and daughter," Merkerson noted, "a gentle spirit who saw the best in everyone."
Like Allen, who died June 27 at 60 after a long battle with cancer, Merkerson, the talented actress, is a native of Michigan, and the two collaborated on a jazz theater project, "A Conversation with Mary Lou," celebrating the life of pianist/composer Mary Lou Williams.
Collaboration was the lodestone of Allen's remarkable musical odyssey, and the ensemble at the end of a nearly weeklong series of concerts and workshops was representative of this collective outlook, performing a number of Allen's compositions.
At the piano, and not on his trumpet, Nicholas Payton offered the first musical notes, a series of chords that moved slowly up the keyboard, where Kenny Davis' bass and the vibes of Stefon Harris expanded the rhythmic and harmonic probe, providing the soft undertone to Allen's words. Chiefly among her reflections in this voice-over was the late trumpeter and educator Marcus Belgrave, her first significant mentor. Kurt Rosenwinkel entered and gave the tune more melodic texture with a flute-like sound from his guitar.
When saxophonist Tia Fuller joined the tune, it reached an orchestral pitch, the repetitive sequence of notes growing in crescendo and intensity before softly tapering off to an intonation of "Geri" led by Payton. After several bars, he invited the audience to join him, and the auditorium resounded with her name.
Without missing a beat and almost echoing the applause was tap dancer Maurice Chestnut, and as would occur throughout the concert, his nimble feet provided the rhythmic core, responding to and sometimes leading the drummers Victor Lewis and Kassa Overall. If there was a special affinity in his exchanges with Overall, it stands to reason because they often toured with Allen.
Tap dancing and bebop were often paired in the '40s and '50s, and Fuller's solo must have resonated with a few old-timers who remember the speedy feet of Sandman Sims, Clarence "Groundhog" Taylor, Jimmy Slyde and the Nicholas Brothers. Her feel for interplay is a product of her early years performing with her parents and sister.
Rosenwinkel and Harris followed Fuller without losing any of the tune's accelerating pace. Each expressed a thorough understanding of the musical lexicon that often embodied Allen's playing.
The only thing missing was Payton's trumpet, and when it finally arrived it was unsparing in its blistering barrage of notes. It was vintage Payton, who works the upper regions of his horn with incomparable urgency, pushing his bandmates to a thunderous conclusion.
At the end of the composition, Merkerson informed the audience that the tune was Allen's "Feed the Fire," and a task they fulfilled indisputably.
The celebration could have ended right there, but there was more than an hour of music remaining, more opportunities to hear several songs from Allen's impressive treasury. And there was no better way to bring the evening to a close than Fuller's recitation that "in the beginning was the sound … the sound of a woman's voice."
And that voice, on this enchanted evening, belonged to Geri Allen.