Honoring America's heroes: Saluting our Black Veterans
CYRIL JOSH BARKER Amsterdam News Staff, Additional reporting by NAYABA ARINDE Amsterdam News Editor | 11/9/2017, 5:53 p.m.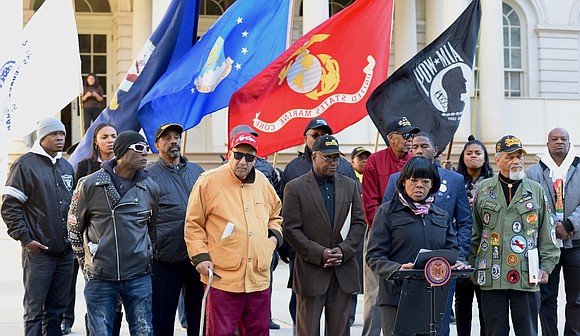 African-Americans have participated in every war fought by or within the United States. According to the U.S. Department of Veteran Affairs, Black veterans make up 11 percent of the total veteran population of 20.9 million men and women.
As veterans continue to come home from America's conflicts, statistics show that some Black veterans are still left out when it comes to benefits.
Black Veterans for Social Justice is not only making sure Black vets get their fair share of government programs but is also taking stances on various social issues. The organization was founded 38 years ago in 1979 by Job Mashariki for Black vets coming out of the Vietnam War who wanted to change social ills.
A veteran himself, Mashariki is one of those Brooklyn activist icons who moves quietly in the background while making huge things happen in the foreground. This beloved elder remains modest about his impact and the impact of his organization.
"It's an infant organization, and it is still developing. It is still trying to maintain the base advocacy on behalf of the veteran community and trying to organize the veteran community," said a modest Mashariki. "We work on advocacy for community development because the founders realized that if the community does well, veterans will do well. So, we step out to support leadership."
"Today, BVSJ helps veterans and non-veterans with housing and employment for veterans along with other social services," said BVSL President and CEO Wendy McClinton, a U.S. Army veteran. "On any given year we service 5,000 veterans and their families. We are really trying to change the face of what it means to be a veteran."
"The issues that the veterans are facing include services that are inadequate," said Mashiriki, "medical facilities are not sufficient, housing for veterans is very scarce and it should not take 10 years for them to get their academic accomplishments. People are fighting wars and not being able to come back and buy homes. Veterans are being taxed for their injuries. And there is the issue with substance abuse and re-entry."
The organization recently expressed concerns over the treatment of Black Army Sgt. La David Johnson and his family by President Donald Trump. During a phone call to Johnson's widow, Trump was highly criticized for saying Johnson "knew what he signed up for."
"Donald Trump's insensitivity continues to insult Gold Star families, veterans and civilians at large," the organization said in a statement. "The question of what happened in Niger must be answered."
Mashariki explained, "The news conference for Sgt. La David was us wanting to put out there that veterans need to come together to determine what issues are affecting them and how they need to address getting them resolved. It gave us a good opportunity to come together and organize our community. We brought together a number of national organizations and local chapters of veteran organizations."
He continued, "We wanted to make it clear that we wanted to be a force of bringing to attention of what is not right with the military, particularly with the so-called president of the United States disrespecting a Black woman and the Gold Star mother."