Honoring America's heroes: Saluting our Black Veterans
CYRIL JOSH BARKER Amsterdam News Staff, Additional reporting by NAYABA ARINDE Amsterdam News Editor | 11/9/2017, 5:53 p.m.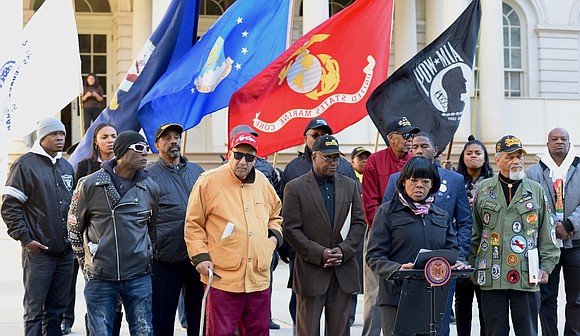 BVSJ provides several community activities out of its Bed-Stuy Brooklyn facility, including job placement, health awareness, a food pantry and mentoring. Services are for anyone in the community; however, BVSJ takes special interest in veterans.
Black veterans are getting younger, according to the VA Department. Blacks make up 10 percent of all veterans between 17 and 34, compared to 7 percent who are white. McClinton said one reason why more Blacks opt to join the military is because of the unemployment rate among young Black men.
Controversy notwithstanding, military recruiters often go into impoverished communities with promises of education, skills and good paying jobs.
"Since there are no jobs a lot of our young Black men and women are told, 'You might as well go into the military,'" McClinton said. "Many Blacks go military for different reasons—to support our family, get a better job and a better life. Whites go because they want to defend our country."
One issue plaguing many Black veterans is the transferring of skills learned in the military into full-time work. Better employment services and job training are a few things younger Black veterans need, according to McClinton.
"A lot of our Black veterans that are coming out have low education level that prevents them from entering into workforce that would give them more resources to live in New York City," she said. "We need to access more union and local trade jobs so that they can learn hands-on skills and sustain families."
Another issue facing veterans across the board is mental health. Cases of post-traumatic stress disorder continue to affect many veterans, who are not getting the proper help they need. Research from the VA says most ethnic minority veteran groups have a higher rate of PTSD than white veterans.
When looking at the aftermath of the Vietnam War, African-Americans had greater exposure to war stresses and had more predisposing factors than whites, which appeared to account for their higher rate of PTSD.
"Veterans are transferring out of military with mental illnesses that are not known and identified while they are in the military," McClinton said. "More resources need to be made available so they can make a clean adjustment back into the city."
Although BVSL has services for veterans, McClinton said that the community can also do several things to help veterans. Americans usually take the time to recognize veterans during Memorial Day and Veterans Day, but community residents can do small things year-round to help America's heroes.
"Support Black veterans, partner with a nonprofit and provide in kind services," McClinton suggested. "Some people skills that organizations need like grant writers or they can join boards and help move some of the agendas."
McClinton added that one of the best things someone can do is hire a vet. In 2016, the unemployment rate for male veterans was 4.2 percent, and the rate for female veterans was 5 percent, according to the U.S Department of Labor.
"Veterans are honorable and responsible," she said. "They have some really good skills and you can help us change the face of veterans."