Talking SCHOP! Bells for Belle
11/9/2017, 3:57 p.m.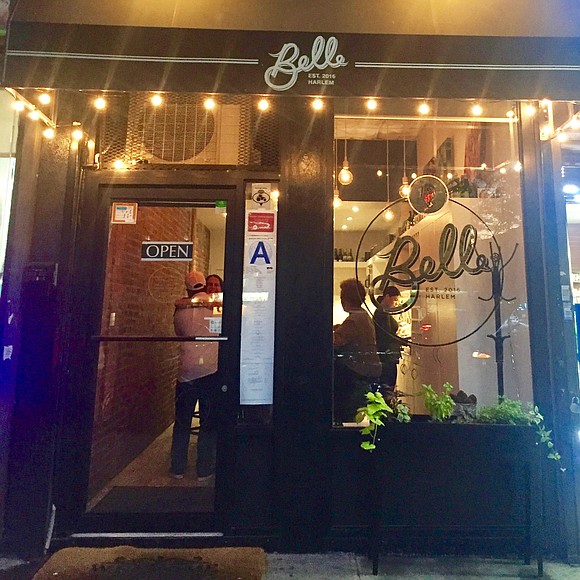 Many, many months ago, I heard of a small restaurant on Seventh Avenue. It was the first chef's table restaurant with only 12 seats and an open residential style kitchen. I was intrigued but never made it to the spot. However, everywhere I went I heard comments about this petite eatery.
In late March I was invited by Citi to judge a cooking competition at Hot Bread Kitchen. The winner would receive the opportunity to sample in the Citi tent at Harlem EatUp! This event is the first time I would eat the food of chef Daryl Burnette.
For the competition, Burnette served up his now signature smoked Gouda mac and cheese spring rolls with bourbon bacon marmalade. It blew all of the judges away, and with his cocktail and dessert, he piqued my interest in his restaurant even more. Still, I would not get to it until months later to reconnect with my Harlem EatUp! colleagues.
Finally, Dawn, Erica, Paul and I made a plan at Belle Harlem (@Belle_Harlem, 2363 Adam Clayton Powell Jr. Blvd, 347-819-4076, www.belleharlem.com) for the early seating, 6:15 p.m. We sat at the communal café-height table while I took in the space with a long, slow pan. I loved how cozy it is, feeling as if the chef has invited you into his home kitchen.
We wasted no time ordering a couple of the specialty cocktail, the Tipsy Belle ($15). A wine-based drink with seasonal ingredients, it was quite tasty. And the wine list was very impressive, with glasses and bottles starting at $13 and $52, respectively.
As a table, we decided to share a bunch of small plates and the night's special large plate, starting of course with two orders of those mac and cheese spring rolls ($18). We slowly filled up on a gorgeous seasonal salad with toasted farro, charred vegetables and cranberries ($15); merguez sausages a la plancha ($18); mussels in red chili coconut broth ($16); grass-fed beef buttermilk biscuit sliders ($19); and inventive fish tacos with chickpeas, Brussels sprout leaves and avocado ($16).
Each of the small plates was better than the last, but one of my favorite small plates was the surf and turf. Here, Burnette incorporates unctuous smoked beef belly into corn laced risotto and tops it with perfectly cooked large shrimp ($22). This dish is a must try!
We quickly enjoyed our desserts ($14) of warm caramel apple tart and Trifling Ho-Ho (ask about it) because we were often reminded the next seating was due. This reminder was the most unfortunate part of our experience at Belle Harlem, but now you know, if you are not in a rush, make your reservation for the second seating.
Thank you, chef! I am looking forward to your next seasonal menu and being at Belle Harlem again soon!
Happy eating and thanks for reading!
Kysha Harris is a food writer and editor, culinary producer, consultant and owner of SCHOP!, a personalized food service in NYC for more than 15 years. Follow her on Twitter and Instagram, @SCHOPgirl, on Facebook, /SCHOPnyc, and her blog, www.talkingSCHOP.wordpress.com. Questions? Comments? Requests? Feedback?  Invitations!  Email AmNewsFOOD at AmNewsFOOD@SCHOPnyc.com. Follow us on Instagram, Twitter and Facebook @NYAmNewsFOOD and tag us with #SoAmNewsFOOD with your food finds!