Veterans express concern over treatment of Sgt. La David Johnson and family
By WENDY MCCLINTON, Black Veterans for Social Justice | 11/9/2017, 4:35 p.m.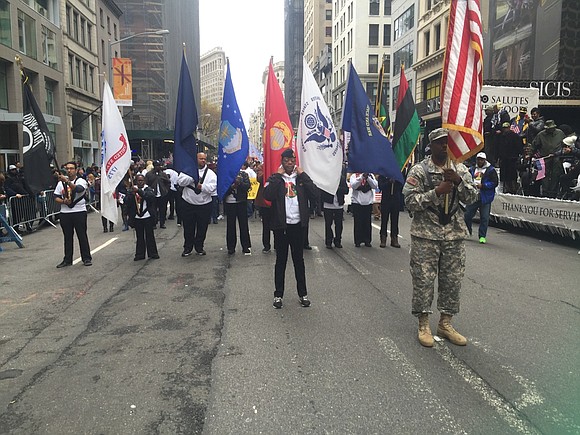 Tuesday, Oct. 31, 2017, at noon, veterans and veteran organizations gathered on the steps of New York City Hall to express their concerns about the treatment of the late Sgt. La David Johnson and his family. The treatment of Sgt. Johnson is indicative of the toxic social atmosphere that has been created since the election of Donald Trump.
Organizations represented at the news conference included the National Association of Black Veterans, Black Veterans for Social Justice, the American Legion and Veterans of Foreign Wars. Other veterans action groups were present, as well as many concerned individuals.
The current dividing of the United States along racial, ethnic and cultural lines has created a national emergency. Trump's insensitivity continues to insult Goldstar families, veterans and civilians at large. The organizations represented here demand an apology to Sgt. Johnson's widow after Trump's insensitive language left her further traumatized after her husband was killed in action serving his country. Further, responsible elected representatives should be respected and not attacked. Another apology is due the Hon. Frederica Wilson, who after expressing concerns about Sgt. Johnson was slandered and verbally attacked by several members of the Trump administration. The questions of what happened in Niger must be answered. The American people must be told why four brave soldiers were killed in combat and why Sgt. Johnson was left behind by his unit for two days.
Finally, we demand better health care and housing for veterans and their families. We demand that Trump stop his racist policies and support for white supremacist organizations, including the KKK, neo-Nazis and skinheads. We also support the people of Puerto Rico and demand that the Office of Homeland Security and FEMA do everything possible to return Puerto Rico to the conditions that existed before Hurricane Maria.
We present here have served our country. Our voices must be heard!