Your love and God's Love We Deliver
KYSHA HARRIS, AmNewsFOOD Editor, @SCHOPgirl | 11/9/2017, 4:01 p.m.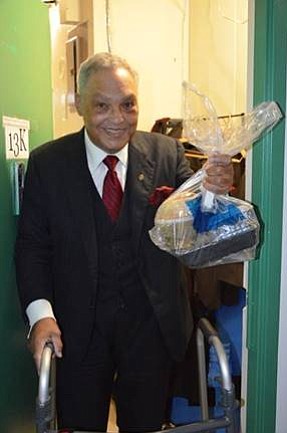 God's Love We Deliver, the leading provider of nutritious, medically tailored meals to those living with chronic illnesses in the New York metro area, recently celebrated its delivery of 20 million meals since 1985. Every weekday, it provides 7,000 meals to clients living throughout the five boroughs, Westchester and Nassau counties and Hudson County, N.J.
—all free of charge.
Most of their clients are seniors, in their 60s and 70s, who are too sick to cook or shop for themselves. Hundreds of these seniors are U.S. veterans—a population that often faces issues of housing and homelessness, substance abuse and trauma. With God's Love's services, sick veterans need not worry, where or how they will receive nutritious meals individually tailored to their medical conditions.
Charles Bell, a disabled Vietnam War veteran with congestive heart failure and diabetes, has been a God's Love client for three years. He spends almost all of his time in his apartment, leaving only to go to the VA hospital. Bell wrote, "I live alone, but I'm not lonely. With God's Love, I really and truly feel your love all the time. If I didn't have you, I would have no other options."
For this upcoming, and every, holiday season God's Love sponsors special holiday meals for their clients. Supporters can contribute to their Celebrate With a Plate program, donating $10 per meal. Visit www.glwd.org/give for more
information and to donate.