Black IBEW Local 3 workers fighting job discrimination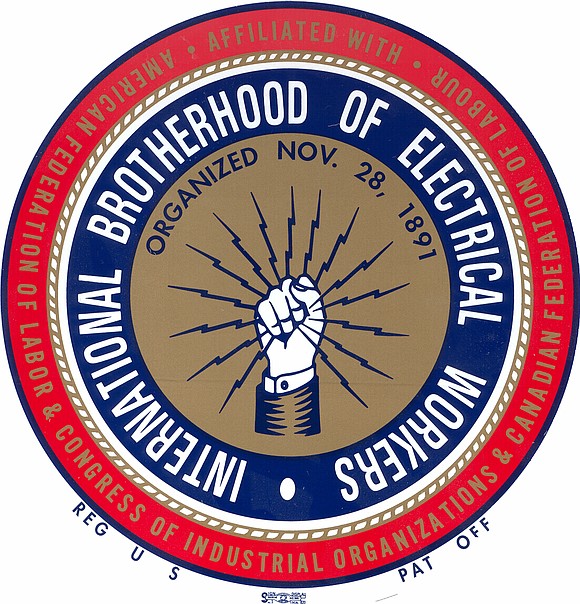 William Hargraves III's been an electrician for 37 years. As a member of International Brotherhood of Electrical Workers Local 3, he's seen it all on the job. But one thing has remained consistent: "The racist conditions that persist within our local," Hargraves said to the AmNews. "We told them that it was systemic and they didn't reform."
Hargraves and several dozen other electricians held a protest in front of the Joint Industry Board of the IBEW Local 3 in Flushing, Queens to bring attention to their plight. The workers picked Black Solidarity Day Nov. 6 to protest. Hargraves said his group represents an organization of active and retired electricians called the Granville T. Woods Association. Woods was a significant African-American inventor who had a hand in the development of the street car and the telephone. The group advocates for fair and just treatment of the minorities in Local 3. Hargraves said that IBEW Local 3 Business Manager Christopher Erikson heard their grievances but has only window dressed the problem with talk of "zero tolerance" and "diversification training."
On the Local 3 website is a brochure with phone numbers to its anti-discrimination and anti-harassment hotlines. "Local 3 Does Not Tolerate Racism, Sexism or Any Form of Discrimination or Harassment—And Neither Should You," states the brochure.
"They have a problem hiring Black foremen," said Hargraves. "They have a problem hiring Black superintendents to oversee the shop and it's a trickle down thing. It's a disparity in the layoffs. We make up the second highest ethnicity behind the whites, but we're the most likely to get laid off."
Hargraves continued, "We have guys and we have women that are more than qualified because they have courses you could take to make yourself more qualified to be a foreman with Local 3. And even with us taking those classes and going up there constantly saying we want to be foreman, we get overlooked."
The AmNews attempted to contact IBEW Local 3 offices, but was unsuccessful.
Hargraves said he sat down with Erickson and said Erickson responded, after months of talks, with what Hargraves called a "hastily put together" conference on racism. Hargraves said he got tired of the excuses, whether it was the fact that the union's fighting for a new contract with Charter Spectrum or they were focusing on getting out the vote for the election, and protested.
"Our history has always been that we had to take it to the street and that's what we did," said Hargraves. "We're not gonna beg him no more."
Hargraves said he and other Black electricians will continue to put the heat on IBEW Local 3. He's looking to take it back to the union's Flushing offices to let their voices be heard again.
"The next step is to go up there and demand that they give us jobs," said Hargraves. "The union has a meeting the second Thursday of each month. They tend to have mics on each side of the room. We want to upset the normal flow of their day and ask them hard questions."