Diabetes center opens in the South Bronx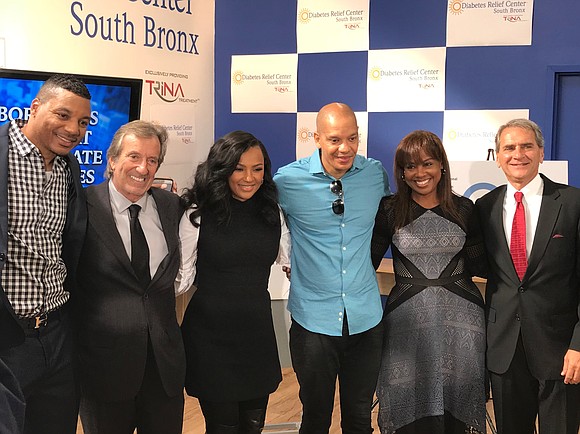 On World Diabetes Day (Nov. 14), the South Bronx celebrated the opening of a center designed to combat the condition that afflicts many of its residents.
Right off "The Hub" shopping area at East 148th Street and Third Avenue, the Diabetes Relief Center's South Bronx location finds itself in ground zero of the epidemic. The Bronx is rated last in health among New York State's 62 counties in New York State, and leads New York City and New York State in diabetes rates. Three of the top five neighborhoods with the highest rates of diabetes are located in the Bronx (including Fordham).
Ray Basri, the center's medical director, said that it's their job is to help people live at their healthiest through multiple means.
"I think the most important thing is that it's a place that people can come for consultation," Basri said. "And we can explore the possibility of optimizing treatment. We're about providing better care that focuses, first of all, on education and, second of all, on nutrition. There's emotional support for people to know that they're not at fault for their diabetes. We want to try and make people feel like there are ways to receive care that aligns with what they want to see for themselves."
"We're hoping it's gonna be part of the solution," continued Basri. "We're hoping we can add a kind of treatment that will reduce complications."
That treatment is known as the Trina Treatment, named after developer Dr. Ford Gilbert's daughter who was diagnosed with type 1 diabetes at the age of 2.
"This is a treatment that has proved itself in other regions around the country," said Diabetes Relief Centers of America President and Co-Founder Lon G. von Hurwitz. "[Gilbert] came up with a way to use microburst insulin to mimic what the pancreas should do in people. It's done through an IV and a pump he invented."
More than 250,000 treatments have been administered, mostly in the South and Southwest, without an adverse reaction.
Carolyn Gershenson, a registered nurse, will provide diabetes education at the center. She said she will teach patients dieting skills and how to use insulin while working with the patient's primary care physician or endocrinologist. She understands that the Bronx can be a food desert that lacks inexpensive healthy options and wants to help residents stay heathy while not putting holes in their pockets.
"Part of my job is to identify what's available, what's around and what are the options are and hopefully in walking view for the patients," said Gershenson. "Hopefully we will have morning, afternoon and evening sessions and some weekends. We hope to accommodate everyone."
The opening of the diabetes center brought out a famous Bronxite as well. Rapper Peter Gunz talked about how diabetes has affected his family and his neighborhood.
"I grew up less than a mile from this area," he said. "It's the area that we used to go Christmas shopping. To see this right here is something that needed more than anything. You see a lot of McDonald's and Popeye's opening making us sick. For this to go up is unbelievable."