'Freight' is fascinating theater from New Federal
LINDA ARMSTRONG | 11/16/2017, 1:12 p.m.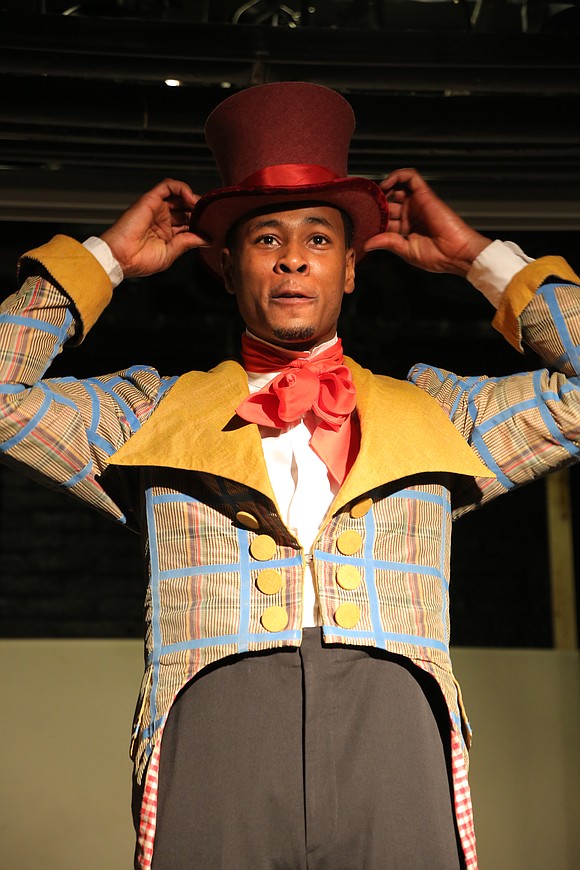 J. Alphonse Nicholson captivates the soul as he performs solo in "Freight: The Five Incarnations of Abel Green," a New Federal Theatre production playing at the Castillo Theatre on 42nd Street. Nicholson performs the Abel Green character moving through five different life journeys. Each journey depicts the struggle, racism, brutality and horror that Black men can experience in this journey called life, especially in America.
Abel Green has various incarnations that include a Black man who puts on Black face and does minstrels shows to make a living. Doing this performance is how he survives, but it has made Black people and groups such as the NAACP and the Black press attack him. He is doing what he has to do to survive in 1910, when strange fruit would be found swinging and burning in the trees in the South. His second incarnation was as an instrument of God. He is someone who seems to be able to heal people in the 1930s. He is used and betrayed by other Black people. The third incarnation is Abel Green as a snitch for the FBI in the 1960s. He is a criminal who they use to infiltrate and inform on the Black Panther Party. The FBI agent who deals with him directly is a Black man. This Abel Green had a difficult childhood and is a hardened criminal. At first he feels good about getting paid by the FBI to inform them about the workings of the Black Panther Party, but after seeing all the good things that the Black Panther Party is doing for the community, he begins to feel guilty. He is a blatant example of how the government uses Blacks to betray other Black people.
In his fourth incarnation he is an actor trying to be successful. He is struggling until another Black actor and mentor helps him along. That actor gives him the break he needs to make it in the business. Abel Green finds himself put-off when he finds out that his mentor is homosexual and develops AIDS. At first he doesn't know how to react to the news that his friend is gay and very ill, so he deserts his friend and feels betrayed by him. He feels betrayed because in the 1980s, when AIDS was an epidemic that carried stigmatism and ignorance, people feared it and stayed away from victims of it.
The fifth incarnation is a homeless man who is planning to go to Saturn to live. This Abel Green had been a corrupt mortgage broker who cheated Blacks and Hispanics out of their money. He purposely got families to take out loans knowing that it would mean they would lose their homes. When it happened with one family, the husband came to Green's company and murdered some of his co-workers. Green, unable to handle the guilt for what he caused, left his mansion burning, got rid of his wealth and committed to a life of poverty.
The stories created by playwright Howard L. Craft will have you enthralled. You can't take your eyes off the stage for one minute because Nicholson is mesmerizing. He delivers every incarnation of Abel Green with such an engaging presentation. You find yourself laughing, smiling and being offended at times, getting upset at times—especially when the minstrel character speaks of a Black man being hung and burned—but you also feel enlightened. It's interesting to hear each story and truly feel what the plight of the Black man has been in America throughout the decades, but despite their trials and tribulations, Black men have still managed to survive and thrive.