GQ's Citizen of the Year—The debate around Kaepernick
Vincent Davis | 11/16/2017, 11:41 a.m.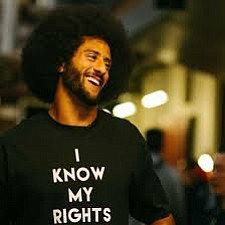 Colin Kaepernick became the topic of discussion once again on sports show programs and social media posts after being named the 2017 Citizen of the Year by GQ magazine earlier this week. The issue, about to hit the streets, is their end-of-year December issue that not only sports Kaepernick's large, coiffed, Jackson 5/Angela Davis-like afro on the cover but also presents a new, added controversy.
At question is why Kaepernick is their Citizen of the Year instead of Houston defensive end J. J. Watt. Watt raised millions of dollars for the hurricane relief effort to help rebuild and assist the residents of Houston who were affected by the floods. It's estimated that it was the costliest tropical storm ever, inflicting an estimated $200 billion in damages in August of this year. The floods destroyed thousands of homes, displacing more than 30,000 people.
Watt's initial fundraising goal was to raise $200,000. When the campaign concluded, donations exceeded more than $33 million.
Before the NFL season started in September, Watt took time from preparing for the season to deliver donated goods to people in Houston's shelters. Watt and his team of volunteers filled trucks with the donated goods and distributed them across the Houston area to those in need.
To show appreciation for Watt, approximately 100,000 signatures were gathered on a petition to the Department of Transportation in Houston to have one of the city's major parkways named after him.
GQ named the former San Francisco 49ers quarterback its Citizen of the Year for starting the protest that has become a movement within the NFL.
"He's been vilified by millions, and locked out of the NFL—all because he took a knee to protest police brutality," GQ wrote. "Colin Kaepernick's determined stand puts him in rare company in sports history: Muhammad Ali, Jackie Robinson—athletes who risked everything to make a difference."
Knowingly or not, Kaepernick's stance jeopardized his NFL career and his earning potential as a professional football player. Despite this, he has dedicated $1 million of his own money to charity.
Kaepernick first knelt during the national anthem at a preseason game last year to protest mistreatment of Black Americans, particularly by police.
The protests grew throughout last season and this one. Many players from the NFL's 32 teams have supported him, causing team owners, officials and their public relations staff and departments to address the issues presented. Protests have even spread to other sports and enticed the president of the United States to get involved, which inflamed the issue even more.