Naima Beckles: Doula and childbirth expert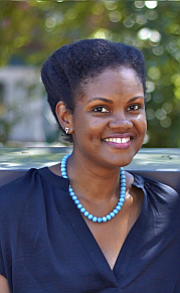 Naima Beckles is not only a certified childbirth educator and a birth and postpartum doula but also the co-founder of For Your Birth. She and Michele Arrieta started this organization in 2013 to help educate expecting families on childbirth and child care in New York City and parts of New Jersey. The organization has helped more than 50 families plan for successful birth experiences.
"We have an unrealistic expectation when it comes to childbirth," Beckles told the Amsterdam News. "We expect it to be like the movies, where the mother's water breaks and after three pushes the baby is born. But that's not the case at all. Mothers can be in labor for hours and it is important for any expecting parents to be mentally prepared."
She continued, "I have personal experience of my clients being in labor for more than 24 hours. One of my clients was in labor for at least 48 hours, and I was so tired, that I actually missed the birth. That is why FYB has enforced pairs of doulas. We pair up our doulas so that when one is not available there's another. We want to make sure our client is never alone and will always be assisted."
For Your Birth also hosts private workshops in homes and at the Melt Massage and Bodywork center at 84 Lafayette Ave. in Brooklyn. "Our workshops provide interactive preparation classes where our participants will have discussion, and have hands-on experience on how to care for a baby and much more," said Beckles.
Beckles added that FYB are seeking to expand their workshops locations to other parts of New York City and New Jersey.
Beckles holds a Lamaze International childbirth educator certificate and is a certified breast-feeding counselor. "I realized that I couldn't just rely on my personal experience with childbirth when I was deciding to become a doula," she said. "Everyone's experience is completely different, so it is important, too for doulas to be well-rounded and to be certified."
She also holds a bachelor's degree in English literature and a master's degree in secondary education and teaching from Loyola Marymount University. She was a middle school teacher at I.S. 246 Crossroads and the Community Action School in Manhattan for approximately eight years. "I really enjoyed being an educator," she said. "I enjoyed seeing my students eager to learn the new material I had planned for them. I would always recommend my students novels based on their personality and interest. They always seemed to like it!" 
But after the birth of her two sons, Micah and Gabriel, she decided to be a stay-at-home mom and to pursue a career as a doula. She received specialized training in cesarean births, in home and water births, for clients who are on bed rest, for families who had the assisted reproductive technology and in vitro fertilization procedures and much more. 
 "My sons who are now 8 and 6 are well educated about the reproductive organs and the birth process," she said. "That's one thing that I enjoy about being a doula. Being able to educate your children at a young age about topics like this is important." 
Beckles became a childbirth educator for the Northern Manhattan Perinatal Partnership's Harlem Doula Project in April 2014. "I just love the work NMPP does for our community and what they stand for," she said. "Being apart of an eminent organization like this is truly a blessing."
For 24 years, The Northern Manhattan Perinatal Partnership has provided health and social services, along with funding assistance, for expecting families in communities in Manhattan. Currently, they have six grant-funded programs, including Head Start and University Prekindergarten, that are targeted to young children. 
Beckler is also a member of the Metro Doula Group, which is one of the largest doula organizations in the country. Since it was founded in 1999 by Ilana Stein, the main goal of the organization is to provide a support group for doulas.
Beckler offers encouragement to anyone who is interested in becoming a doula. "Being a doula has completely changed my life, and I believe anyone who has any thought about being one should take it seriously," she said.
For more information, visit http://www.foryourbirth.com.