Where to eat in Cape Town, South Africa
MEGAN PINCKNEY | 11/16/2017, 1:31 p.m.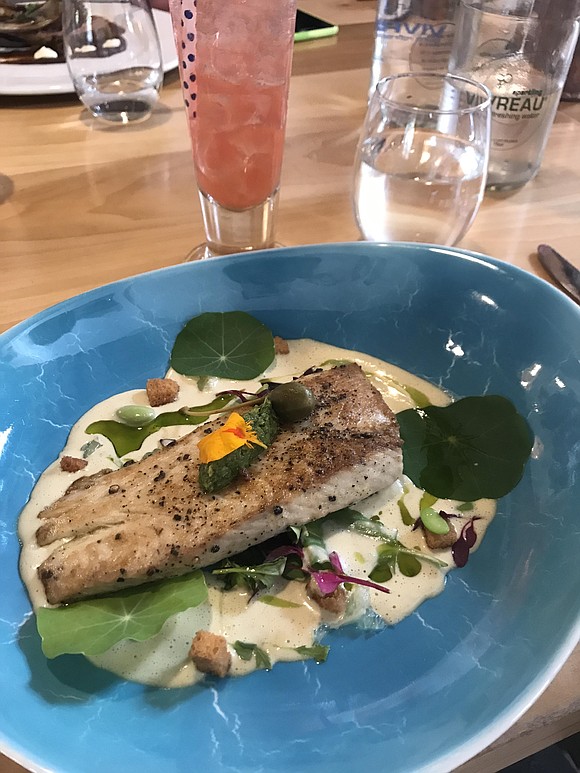 Cape Town has been named the best food city by industry insiders, in part because of its mix of African, European and Asian influences, and also because of its incredibly affordable prices, even at its finest restaurants.
While on holiday last month I had the opportunity to experience a few of Cape Town's hippest restaurants with menus that were complex, exciting and simply mouth-watering. Below you'll find a short guide to a few of my favorite restaurants in the city that are changing how the world eats.
No matter how long your plans will keep you in Cape Town, you must make it a point to experience one of Luke Dale Roberts' award-winning culinary treasures before you leave. In Cape Town alone he has three completely different establishments that are all critically acclaimed. His first, and most awarded, is The Test Kitchen—an upscale, contemporary restaurant that serves dinner with a Latin and South African flare. Although it is his oldest restaurant in Cape Town, The Test Kitchen is still one of the hardest restaurants to get reservations for. The dishes and flavors are all incredibly complex, making it the perfect spot for any foodie in town. Diners are treated to quite the experience along with their meals. The first portion of the tasting begins in a dark room with the first courses and drinks being served. You are then led into the light room, or main dining room, for the remainder of your courses. It's an experience and meal that everyone raves about.
Because we needed a reservation the same day, The Test Kitchen was not an option for us. Fortunately for us, our hotel's concierge was able to get us a table at Roberts' other incredibly hip restaurant, The Pot Luck Club. The atmosphere there is a little more relaxed and trendy than at its sister restaurant, with a much younger feel. We loved The Pot Luck Club the moment we walked out of the elevator into The Silo of The Old Biscuit Mill and got a breathtaking view of Table Mountain among the lights of the city. The food is sophisticated but served in an informal tapas-style for the entire table to enjoy. The menu is divided into six categories: sweet, salty, umami, sour, bitter and sweet-ending. Some of our favorite dishes from our dinner were the fish tacos, beef tataki, chicken curry, smoked beef tartar, chickpea and goat cheese fries, and heaven's bacon. They also had a list of specialty-crafted martinis that were made from surprising ingredients. My favorite martinis were the pineapple and vanilla, the Thai green curry and the custard apple. The Pot Luck Club gave me everything I need from a restaurant—great cocktails, delicious food and a popular scene with great atmosphere.
Another super popular restaurant in Cape Town is Willoughby and Co, a super-hip, Asian fusion restaurant that specializes in creative sushi rolls and other Japanese dishes. But what surprised me most is that this local hot spot is located in a shopping mall on the Victoria and Alfred Waterfront, something that would immediately make it "uncool" where I live. Yet, Willoughby and Co's location seems to only add to its coolness here. On top of sushi rolls that will impress even the most educated palate, the restaurant offers an array of fresh seafood and traditional Japanese dishes. Prices on this menu are a little higher than most, but most people agree that they're worth the slight price inflation. If you want a table for dinner or their ultra-popular happy hours, chances are there will be a wait when you arrive because Willoughby and Co does not take reservations. But to make up for that inconvenience, they offer a little wine tasting to guests as they wait. Willoughby and Co should definitely be on your list of restaurants to visit in Cape Town, even if it's only for a cocktail.
One of my favorite dining experiences from my trip took place at the Foodbarn Restaurant, an unpretentious restaurant that offered simple, yet incredibly delicious food. Located in the Noordhoek Farm Village, Foodbarn is a spacious, but not large, dining room that offered minimum décor and a terrace seating option. My group and I spent a little over an hour enjoying every bite of a three-course lunch that was locally sourced and prepared to perfection. On top of being one of the best meals I've ever had, it was also one of the prettiest. Each course was plated to look as if it were about to be photographed for their website instead of devoured. Everything was simply outstanding, which I guess explains why superstars such as Oprah and Leonardo DiCaprio are huge fans of the Foodbarn.
Megan Pinckney (@shadesofpinck) is a retired beauty queen turned lifestyle blogger who loves exploring the world and writing about it.