Rev. Jesse Jackson reveals he has Parkinson's disease
STACY M. BROWN | 11/18/2017, 3:42 p.m.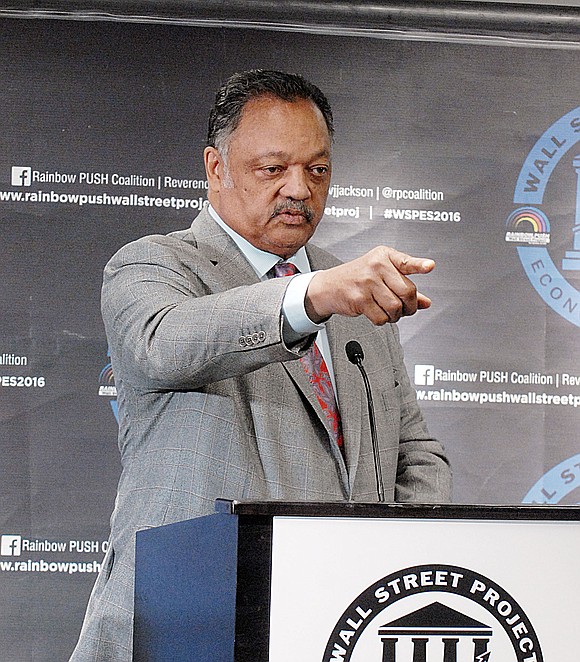 The Rev. Jesse Jackson's Parkinson's disease diagnosis caught many by surprise, but those who know him said they're confident that he'll overcome the life-threatening challenge before him.
"He's in the rumble of his life, but he's rumbled some big foes before," said Vincent Hughes, a Democratic state senator from Pennsylvania who campaigned for Jackson in 1984 and again in 1988. Hughes said that Jackson's campaigns were birthed in the Black empowerment movement that followed the Civil Rights Movement of the 1960s. "I'm one of those African-Americans, who took office and was a part of that issue of 'protest to power' and Rev. Jackson was, in many respects, our leader and he still is."
More than anyone else, Jackson opened the door for the election of Barack Obama, the first African-American president of the United States, said Dr. Benjamin F. Chavis Jr., the president and CEO of the National Newspaper Publishers Association. Chavis was one of Jackson's contemporaries during the Civil Rights Movement. "Rev. Jesse L. Jackson Sr., is a living, global civil rights icon," said Chavis. "As a colleague in the Civil Rights Movement dating back to the 1960s and under the leadership of the Rev. Dr. Martin Luther King Jr., I have personally witnessed the selfless sacrifice and dedication of Rev. Jackson."
Chavis continued, "For all who have cried out for freedom justice and equality, the news of his Parkinson's disease should only serve to re-dedicate a movement now for health care equality for all, not only as a civil right, but as a human right."
Friday, Nov. 17, Jackson, 76, issued a statement informing the world of his illness.
In the statement, Jackson recalled his foray into activism, being arrested July 17, 1960 with seven other college students who advocated for the right to use a public library in his hometown of Greenville, S.C.
He said that he remembers the arrest as if it happened yesterday and it was a day that forever changed his life.
"From that experience, I lost my fear of being jailed for a righteous cause," said Jackson, whose multiracial National Rainbow Coalition grew out of his work in the 1984 presidential campaign. "I went on to meet Dr. King and dedicate my heart and soul to the fight for justice, equality and equal access."
He said he resisted interrupting his work to visit a doctor, but his daily physical struggles intensified and he could no longer ignore his symptoms.
"After a battery of tests, my physicians identified the issue as Parkinson's disease, a disease that bested my father," Jackson said.
The Rev. Al Sharpton issued a statement saying that he spent time with Jackson and his family in New York, as Jackson made the announcement of his illness.
"As I watched him, I was reminded of the greatness of this man," Sharpton said. "Reverend Jackson has changed the nation and served in ways in which he never got credit."
Maynard Eaton, a journalist and national director of communications for the Southern Christian Leadership Conference, called Jackson a legendary and fearless civil rights champion.