'Justice League' makes DC Comics proud
LAPACAZO SANDOVAL | 11/23/2017, midnight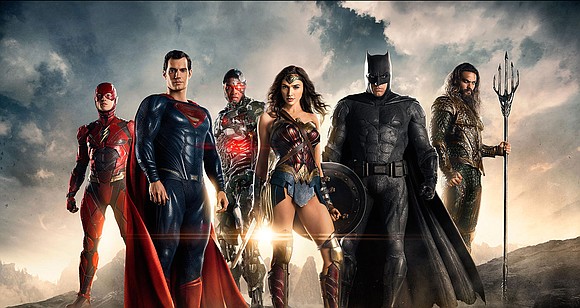 Director Zack Synder's "Justice League" is more than just a watchable superhero movie. It's actually rather good. Much of that credit goes to the addition of a few fresh faces, including the iconic Wonder Woman, who is not mere eye candy.
A quick rewind. In the last movie, Superman (Henry Cavill) seemed dead, but any die-hard fan of the entire superhero genre knows better. Of course he's alive and kicking in this one, and naturally, the group of superheroes needs to get together to fight evil. That's how good versus evil always works.
Following his gut instincts which tell him trouble is just around the proverbial corner, Batman, aka Bruce Wayne, played by Ben Affleck, steps up to lead the adventure. He's the host with the coolest gadgets, the hyped hideout and let us not forget his uber-efficient butler (Jeremy Irons as Alfred). Batman looks sleek and mean with rippling muscles clearly accenting his bat suit. This story hints at a possible failed love affair with Wonder Woman, aka Diana Prince (Gal Gadot), the most logical reason for him stammering like a love-struck teenager. She's not really noticing the wealthy besotted superhero—she's a career girl, after all.
Romance is not what "Justice League" is about; the theme is solidarity. The film devotes a lot of time piecing together its newest parts: Aquaman, aka Arthur Curry (Jason Momoa), an underwater superhero; the Flash, aka Barry Allen (Ezra Miller), a character familiar with lightning; and Cyborg, aka Victor Stone (Ray Fisher), a machine man built from metal and interesting layers.
When the movie opens, the world is deep in mourning for Superman, and that includes Lois Lane (Amy Adams). It's always darkest before the dawn because that's how these movies work best, leading Batman and Wonder Woman to round up the gang. There is real cinematic joy in the introductions of the three newcomers, their quirky back stories demonstrating their superpowers.
The movie finds its groove when the gang comes together. This time, Batman doesn't have the best lines—the comedy belongs to the Flash. It's hard to keep your eyes off Aquaman (Momoa from "Game of Thrones") because he's so handsome and so tall he almost makes you believe in superheroes in real life. Plus, Aquaman knows how to mix the drama and the comedy, perfectly. Cyborg is the type of superhero who has been partly welded together from scraps and who represents every underdog in the world. The hoodie that he sometimes wears brings to mind Trayvon Martin, and this imagery imparts a larger meaning that the movie and the character have yet to explore.
Snyder feels very comfortable with his characters and their world, and to that end, he welcomes the audience. In these dark times of which we are all living, it's almost the patriotic thing to do, to give us hope that evil will be defeated by good. In this prickly political atmosphere, where hate and indifference are both practiced and encouraged by the president of the United States of America, we need to find the humor and laugh right in the face of darkness. Ha! The innocent need justice, and it's nice to dream that for two hours maybe, just maybe, we might all get a taste of the "Justice League."