Linda Celeste Sims: Ailey's joyful spirit in the flesh
ZITA ALLEN | 11/23/2017, midnight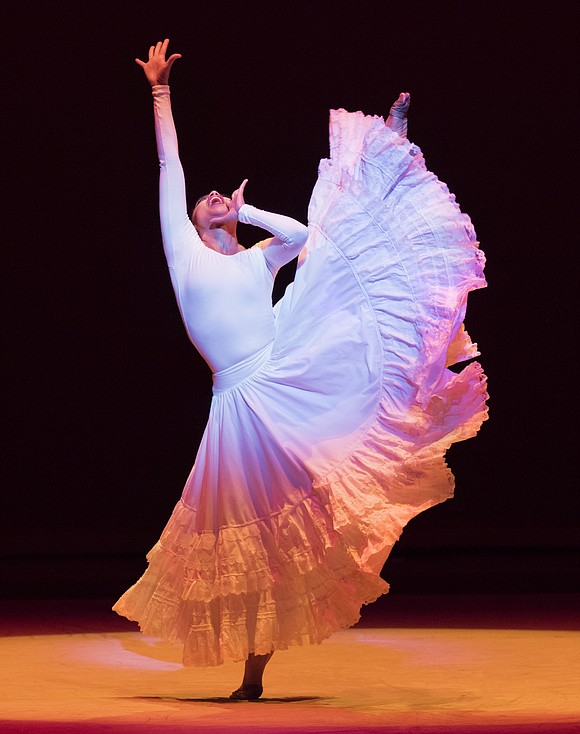 Alvin Ailey American Dance Theater dancer Linda Celeste Sims is so down to Earth it's easy to forget the tape recorder, the pre-determined questions and the fact that the conversation is really an interview as we hop from topic to topic. Talking with her about dance is as easy as watching her perform Ronald K. Brown's prayerful "Grace," Alvin Ailey's soulful "Cry," the transcendent tribute "Memoria" or the timeless masterpiece "Revelations." Her spirits shines through.
The same is true as she talks about being in the Ailey Company sharing the stage with a company of exquisite dancers, one of whom is her husband, Glenn Allen Sims, as they perform works such as this season's line up of Robert Battle's "Mass," Talley Beatty's "Stack-Up," Jamar Roberts' premier "Members Don't Get Weary," or Gustavo Ramirez Sansano's "Victoria" and, of course, "Revelations," among others. Clearly, it's a labor of love. The vivacious, expressive Sims is a star but she's clearly still a home girl from the Bronx, the daughter of a Nicaraguan mother and Dominican father, a descendant of a long line of women who worked as maids and housekeepers but were warriors and gladiators. And, whether Sims is actually dancing or talking about it that spirit shines through.
"You know, my thing has always been, I don't focus on how high my leg is," Sims said. "I'm enjoying every piece, everything that's been given to me. Whenever I'm dancing, I'm happy. It brings me that much joy." She squeezed that last word, relishing the images it conjures up.
Whether it's a dance being performed for the first time or something she's done a gazillion times, such as her spellbinding performance in the "Fix Me, Jesus" section of "Revelations," she said, "Each time I approach it with a different mindset. You know, I want to feel like I'm this vulnerable person and I'm being just lifted by Jesus. I know it sounds a little crazy but, you know, sometimes you have to talk to yourself, bring stories to yourself in order to bring it to life."
Watching her perform, it's easy to assume she was born with a facility many dancers work so hard for—one fluid yet forceful, supple yet strong; one that moves through space as if swimming under water and unfurls as if music flows through her veins. She's quick to point out it's the result of years of hard work. "Like, OK when I was younger I wished I had bangin' feet and hyperextended legs," she said, "But, you know what I said to myself when I was in the studio? 'I don't have that, but what can I have that she can't have?' And I said, 'Well I'm gonna twirl, I'm gonna dance.' Whatever that meant for me. You know I might not have all of that, but what can I do? Oh, I can use my eyes and bring you in with my spirit."
Teaching master classes, Sims likes to share insights with aspiring dancers because, invariably there will be that little girl or little boy who doesn't have that perfect body "but, my God, they are throwing themselves into the movement and they dance!"