New baby boy for Kevin Hart and wife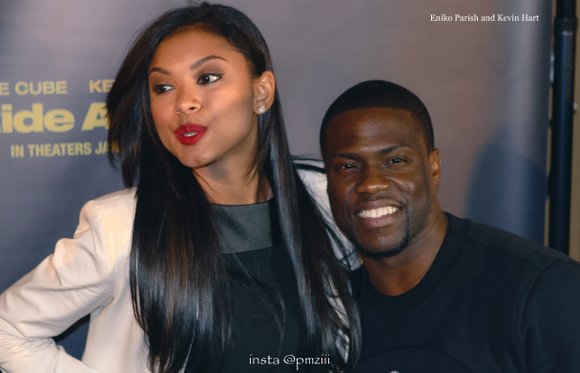 Congrats to Kevin Hart. The superstar comedian and his wife, Eniko Parrish, welcomed a baby boy Nov. 20, reports Radar. Hart posted the new bundle of joy's birth on social media, writing, "God is truly amazing. Kenzo Kash Hart was born at 1:45 a.m. He is healthy and already smiling. Thank you all for your prayers." Parrish went into labor more than a week ago, causing Hart to abruptly end an interview. Just a few months ago an alleged cheating and extortion scandal threatened to tear the newlyweds apart. Model Montia Sabbag announced in a news conference with attorney Lisa Bloom that she shared an "intimate" relationship with Hart but denied extorting him.
Striving to help its program participants and community members start the holiday season with a hot meal, the New York City Mission Society provided more than 300 meals at its 14th Annual Thanksgiving Harvest Community Dinner at Minisink Townhouse in New York City's village of Harlem Nov. 16. The event was underwritten by board members Jean Shafiroff, who is known as the Diva of Philanthropy, and Jay Moorhead. Sponsors and volunteer groups included Chase, Nike, Kohl's and Whole Foods. "The families we serve face numerous challenges each day, and the holidays can be especially tough," said New York City Mission Society President Elsie McCabe Thompson. "This time of the year is a chance to give thanks and to give back, so I thank our board members Jean Shafiroff and Jay Moorhead, staff and the volunteers for coming together on this night to start the holiday season off on a high note. This is what the holidays are all about."
Hosted by "Black-ish" star Tracee Ellis Ross, The American Music Awards were handed out Nov. 19 in Los Angeles. Bruno Mars, who was not at the show, won six awards, including Artist of the Year. Diana Ross also took the stage for a rare performance and was honored with the American Music Award for Lifetime Achievement at the show, which aired live on ABC.
My Time Inc. will host its eighth annual Fundraising Gala Thursday, Dec. 7, at the fabulous Russo's By the Bay in Howard Beach, Queens. Each year this stellar event honors and celebrates caregivers who unselfishly devote their lives to those who need constant care. The night will feature great music, delicious food and celebrity guests, including Yours Truly and TV contributor and psychologist for "The Real Housewives of Atlanta," Dr. Jeff Gardere. My Time Inc. founders Lucina and Wayne Clarke are a married couple of 30 years with a rich Caribbean heritage. Together they have created and designed an environment for parents, grandparents and advocates caring for individuals with special needs.