Thanksgiving Day celebrated in the city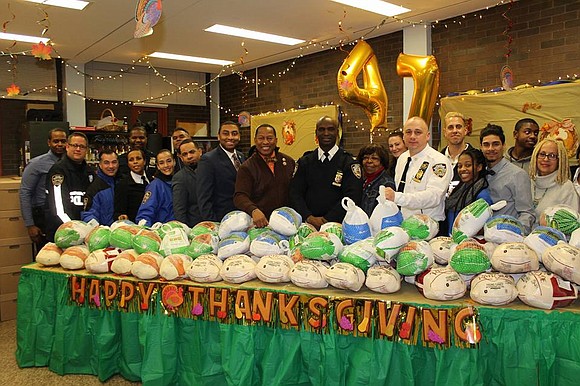 The spirit of Thanksgiving was felt across the city as people came together to celebrate the holiday with food and camaraderie. There was also a sense of giving back as many people across the city are volunteering their time to help others.
Macy's Thanksgiving Day Parade
Thousands of people lined up from the Upper West Side to Midtown to watch the 91st Macy's Thanksgiving Day Parade. Floats, marching bands, celebrities and Santa Clause made their way through Manhattan. The Prairie A&M Marching Storm band from Texas participated in this year's parade. Giant balloons this year included Angry Birds' Rovio, Hello Kitty, Olaf from Disney's "Frozen" and Charlie Brown. Andra Day, rapper Common, The Roots, Flo Rida, Patti LaBelle, Wyclef Jean and Leslie Odom performed.
Al Sharpton's National Action Network hosts Thanksgiving dinner
The National Action Network (NAN) hosted a free Thanksgiving dinner for the community at the House of Justice in Harlem. The event is free and open to the public.
Raising awareness about hunger in NYC
Elected officials and other prominent New Yorkers joined Joel Berg, CEO of Hunger Free America, to release the group's annual survey on demand at soup kitchens and food pantries and new findings on food insecurity and hunger in New York City and New York State. The report is the only one of its kind identifying how many people in New York City and State are working and still living in hunger. For the first year ever, Berg will walked from site to site, promoting the many soup kitchens and food pantries along the way in all five boroughs. In this march, he joined by community members and people affected by hunger to raise awareness about food insecurity across our city. The full distance walked will be about 32 miles.
Assemblyman Michael Blake teams up with youth for turkey giveaway
Bronx Assemblyman Michael Blake was joined by several youth groups including Girl Scouts, See U Through Foundation, Alpha Eagle Boys Club, Boy Scout Unit 777 - Troop 1219 and The National Give Back for Kids Campaign for turkey giveaway. The event took place last Saturday at P.S. 463/Urban Scholars Community School.
1,500 needy New Yorkers treated to fancy, sit-down dinner on Thanksgiving
At First Corinthian Baptist Church's was transformed into a restaurant for it's Thanksgiving community dinner that fed over 1,500 people. The dining room featured tablecloths, menus, waiters and hosts in uniform, and table service complete with turkey and trimmings. During the meal, a street team also combed the neighborhood for people in need of a hot meal – Other volunteers also dropped off meals for the elderly and home-bound.
Catholic Charities distributes free turkeys in Brooklyn and Queens
Catholic Charities Brooklyn and Queens distributed 950 turkeys to families in need. The distribution of the 12-14 lbs. turkeys and side dishes will take place in Queens last Friday. Volunteers helped pack the vegetables and turkeys for distribution to the families in need. About 700 turkeys were donated by Alphonse and Maria Catanese and Family, ALMAR Realty Solutions, in memory of the parents of the Catanese's. An additional 250 turkeys were donated by Western Beef. Turkey dinner fixings, provided by the Catholic Charities Food Pantry Network, include fresh potatoes, squash and corn, instant stuffing, gravy, corn and corn muffin mix.