Thanksgiving Day celebrated in the city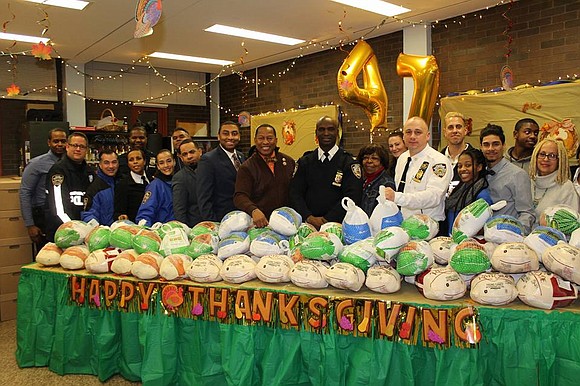 Council Member Ben Kallos and Common Pantry deliver Thanksgiving turkeys to NYCHA residents
Council Member Ben Kallos and Common Pantry distributed 100 turkey packages, purchased with funding assistance from Council Member Kallos' office. They will distribute the packages to the residents of Stanley Isaacs Houses, Lexington Houses, and Robins Plaza.
Catholic Charities Brooklyn and Queens donates 450 Thanksgiving turkeys to those in need
On Monday, Catholic Charities Brooklyn and Queens (CCBQ) metat Bishop Mugavaro Senior Housing Site to give 450 turkeys to families in need, in time for the Thanksgiving holiday. Donors Alphonese and Maria Catanese donated the turkeys, while the NYPD Emerald Society and NYPD Holy name society was presented to help unload and hand out the turkeys.
Berkeley College and the New York Jets team up for donation to food bank
The New York Jets and Berkeley College teamed up with Food Bank For New York City to tackle hunger this holiday season. The team and school made a $20,000 check presentation to the Food Bank For New York City. Jets players and Berkeley College student volunteered to unload over 100 turkeys and all the trimmings from Food Bank's 54-ft. tractor trailer, step into the kitchen to dice, slice and chop, carve the bird and serve a pre-Thanksgiving dinner to over 400 guests at Food Bank For New York City's Community Kitchen in Harlem. Now through December 31, all dollars donated to Food Bank will be matched up to $1,000,000. The donation will provide 200,000 meals for New Yorkers in need this holiday season.

Salvation Army serves 1,000 people for Thanksgiving
About 1,000 homeless, hungry, and people received Thanksgiving dinner with all the trimmings at The Salvation Army Greater New York Divisional Headquarters in Manhattan on Thursday. The free sit-down dinner is the largest of those offered by The Salvation Army in the Greater New York area during Thanksgiving week, and is believed to be the oldest Thanksgiving dinner for those in need in New York City. In addition to the Manhattan feeding, The Salvation Army also served Thanksgiving Day dinners at its centers in Brownsville, Brooklyn ,Freeport, Long Island and Riverhead, Long Island.
Food Bank for New York City distributes turkeys and roasters at Harlem pantry
On Monday, Food Bank For New York City distributed 700 turkeys and chicken roasters with all the fixings to provide dinners to New York families in need this Thanksgiving. The initiative helps lessen the burden on New Yorkers struggling with food insecurity over the holiday period. Volunteers distributed turkeys to larger families, with each bird providing 8 meals, while chickens will go to smaller families, providing 4 meals each. In total, Food Bank distributed 4,400 holiday meals, including 3,200 turkey meals and 1,200 chicken meals.
Council Member Andy King distributes turkeys
Bronx City Council Member Andy King (12th District/Bronx) and NYPD's 47th Precinct distributed more than 1,000 free Thanksgiving Day turkeys to families in need in the Wakefield Section on Mondayat the 47th Precinct. The turkeys (and fixings) were personally be handed out by Council Member King and Inspector Ruel Stephenson, commanding officer of the precinct.
27th Annual Harlem Community Thanksgiving meal feeds 2,000
On Wednesday, renowned chefs from the city's finest hotels and restaurants gathered at the Children's Aid Dunlevy Milbank Center to prepare a meal for community members in Central Harlem. Approximately 2,000 residents were fed at the event every year, including children and youth served by Children's Aid early childhood and after-school programs.
Celebrities join Newark Mayor Ras Baraka to distribute turkeys
Newark Mayor Ras J. Baraka was joined by actor/comedian/director Nick Cannon, rapper Dave East, DJ Funkmaster Flex, rapper Jadakiss, and DJ Clue at the City's 2017 Turkey Drive for Newark residents on Monda, at the John F. Kennedy Recreation Center. More than 6,000 turkeys were given away at the event.