What did the mayor know and when did he know it?
DR. LENORA B. FULANI | 11/23/2017, midnight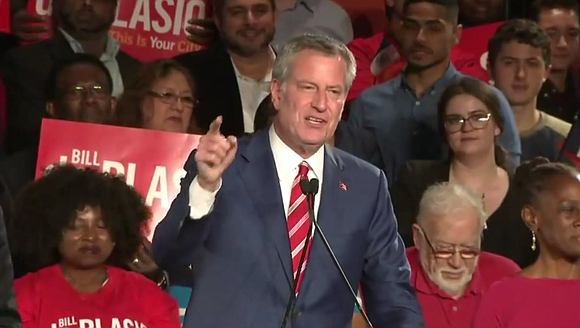 Just after Mayor de Blasio's re-election, it was announced by the Department of Investigation that the New York City Housing Authority, under the leadership of Chair Shola Olatoye, filed false reports and lied to Housing and Urban Development that lead paint inspections of almost a third of, or 55,000 NYCHA apartments, had been conducted.
Residents of NYCHA are used to this attack on them. It is heart breaking, not to mention criminal, that our children, the elderly and all residents, must endure this outright assault. Conditions in our city, under our "progressive" mayor, have led international agencies to speak of a humanitarian crisis in housing in New York City.
Lead poisoning in these apartments can affect more 4,200 children under the age of 6 years who are most susceptible to permanent brain damage. We know of 200 cases in which brain damage has occurred, but no one knows of the full extent.
It turns out that de Blasio, who defended the NYCHA chair and acted as if he were unaware of the lie last Thursday (Nov. 16, 2017), has known about the lie for more than a year and half, since Olatoye told him in April 2016, according to the New York Daily News.
For many decades, the condition of public housing has deteriorated to such a point that it no longer provides decent and affordable housing to its residents. NYCHA housing conditions sicken residents through mold, lack of heat and toxic building material deterioration.
In 2015, the mayor, with NYCHA, launched his NextGen plan, which is selling and leasing NYCHA housing and property to developers, a privatization disaster for residents and a gift to developers who can displace current residents with more financially secure, middle-income tenants. The federal protections guaranteed by public housing rules are converted to affordable housing rules, entitling private developers to control who lives in the NYCHA buildings and the new buildings they construct on the playgrounds and open spaces of public housing complexes. "Affordable" is more than the average public housing tenant can afford.
New York City Council Member Ritchie Torres, Public Advocate Letitia James and Bronx Borough President Ruben Diaz, all of whom expressed concern over conditions in public housing, are variously calling for increased oversight and monitoring of NYCHA, calling for the firing of the NYCHA chair and decrying NYCHA mismanagement. But if they really want to address the full extent of the crisis and demand accountability, they must conduct an investigation into Olatoye's leadership at NYCHA and Blasio's support of it.
Please join me at our next citywide Committee for Independent Community Action meeting Dec. 13 at 6:30 p.m. at 543 W. 42nd St. to continue the fight to stop the attack on the residents of public housing and privatization of NYCHA. As Dr. King said, housing is a civil right.