Brooklyn grandmother fights for apartment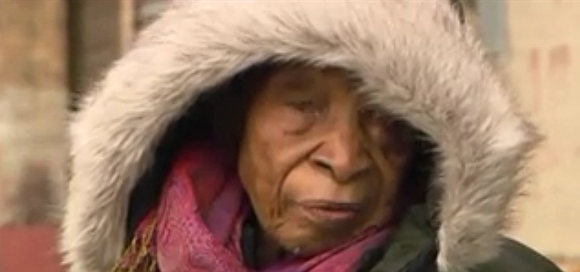 Brooklyn grandmother Joy Noel, 85, spent her Thanksgiving holiday homeless and fighting to get her apartment back. She's headed to court this week in hopes of going back to the place she's called home for 20 years.
Tenant leaders from the Flatbush Tenant Coalition, local elected officials and community leaders rallied behind Noel on Thanksgiving morning to bring attention to the ongoing dispute between her and the landlord who evicted her.
Noel's saga began earlier this month when advocates say she was illegally evicted from her rent-controlled Flatbush apartment. Her landlord, Isaac Jacobowitz of Carnegie Management, started an eviction proceeding against her, falsely claiming that she refused to sign a lease renewal. Noel was not aware of the court case because it was filed with the wrong ZIP code and her name was misspelled.
She was away receiving medical treatment, which she said she informed her landlord about, when she lost her housing court case by default after not showing up to a case she knew nothing about. Noel returned home only to find her belongings removed from her apartment.
"Instead of giving thanks today with my friends and family, I am here fighting to get back my home from landlords who destroy the lives of low-income families to get as much money as possible," Noel said. "I may be the cause of this vigil, but this vigil is not just for me. This vigil is for our community, for our people who need a home. This city needs to stop predator landlords from putting money in front of humanity."
Noel's landlord alleges that she owes $75,000 in back rent and that they have been having issues with her since 2012.
Advocates say Noel's eviction is part of an aggressive pattern of buildingwide and Brooklynwide harassment by the landlord, who is also using the rent laws to try to deregulate her entire 65-unit building through the "substantial rehabilitation" loophole.
The Flatbush Tenant Coalition is demanding that Noel get her home back and that the landlord is held accountable for his harassment and displacement.
"We demand justice for Ms. Noel now and stronger rent laws and housing court reforms to stop this from happening to other New Yorkers," said the group in a statement. "Gov. Andrew Cuomo, stop giving landlords incentives to make our families homeless and have our courts carry out their bidding."